As at March, the Mobile World Congress event will hold at the capital of Spain where famous mobile manufacturers would unveils their latest flagships, which will come with high quality performance and new features. All three smartphones, Samsung Galaxy S6, HTC One M9 and Sony Xperia Z4 are successors and their fans have been expecting them to be available in market for purchase.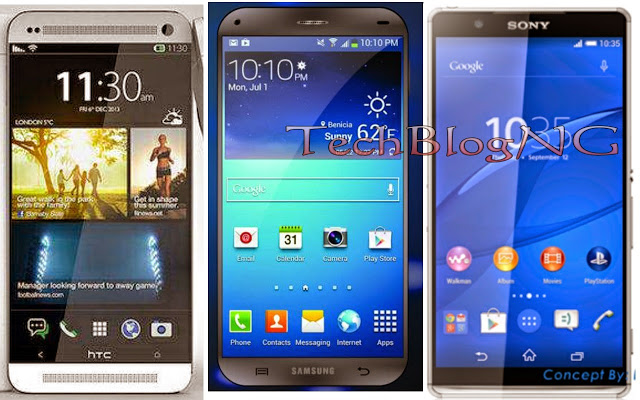 HTC One M9
This has been codenamed "Hima", this model will have almost the same design as the One M8, featuring a metallic body with two horizontal strips on the back, but will have a gold trim and will be 0.2mm thinner than its predecessor, which measures 9.4mm. The screen size and resolution won't change, being retained at 5inches with 1920×1080 pixels with 441ppi, but the processor will be the latest Snapdragon 810 manufactured by Qualcomm and will consist of two quad core processors clocked at 1.5GHz and 2GHz, which will support 3GB of RAM.
It will have the same memory capacity as the Galaxy S6, also expandable up to 128GB, while the two cameras will be 20.7MP with dual-LED flash and video capture at 2160p@30fps, plus a 4MP Ultrapixel front camera borrowed from the HTC One.
Samsung Galaxy S6
Galaxy S5's successor will be more innovative, both externally and internally, will feature a totally new
design which will replace the ugly dotted pattern.
Instead, the back panel might be made entirely by aluminum, and it's not certain yet if it will be removable
or uni-body. The screen will measure 5inches and will support QHD 2560×1440 pixels resolution at 587ppi (according to GSMArena). Samsung ditched the 64bit Snapdragon 810 processor and used its own Exynos 7420 processor clocked at 3.2GHz, which will pair with 3GB of RAM. The internal memory will be 32GB and by adding a microSD card, its capacity will be increased up to 128GB. Samsung likes to be ahead of the competition
in terms of camera technology and we're expecting improved shooters on the Galaxy S6, with higher resolutions and new features. The back camera will support 20MP and the front camera will be 5MP, but we don't have any information related to the battery.
The battery should be much bigger, because the QHD resolution is like a vampire that sucks the juice faster.
Sony Xperia Z4
The dimensions of the device haven't been specified, but it will have a rectangular body with a flat plastic back and more rounded corners, the screen will measure
5.2inches and will support 2560×1440 pixels with 565ppi, using full HD Tri-luminous technology. The processor will be also Snapdragon 810 chipset, but it will
couple with 4GB of RAM, which means that it will be faster than the One M9, and there will be two variants of internal memories of 32 and 64GB, with the possibility to increase them up to 128GB. The Z4 will have the same 20.7MP camera from the Z3, but with improved features, while the front camera will be 4.8MP, replacing the 2.2MP snapper.