Have you ever found yourself in need of a break from the daily grind of work and the stress that comes with it? After weeks or months of consistent hard work, it's only natural to crave some time to unwind and relax. Perhaps you've already explored popular destinations like the beach, museums, and other tourist hotspots, and are now on the lookout for something new and refreshing to explore.
If that's the case, why not consider a vacation to one of America's beautiful seaside towns? These quaint and picturesque destinations offer a perfect escape from the hustle and bustle of everyday life, and provide a chance to immerse yourself in the natural beauty and charm of the coast.
To help you plan your next getaway, we've compiled a list of some of the most stunning and breathtaking seaside towns across America. From the rocky shores of Maine to the sun-drenched beaches of California, these destinations are sure to leave you feeling rejuvenated and refreshed.
So pack your bags, grab your sunscreen, and get ready to embark on a journey of discovery as we explore some of the most amazing American seaside towns you can actually visit.
Top American Seaside Towns for Fun and Vacation
ASBURY PARK, NEW JERSEY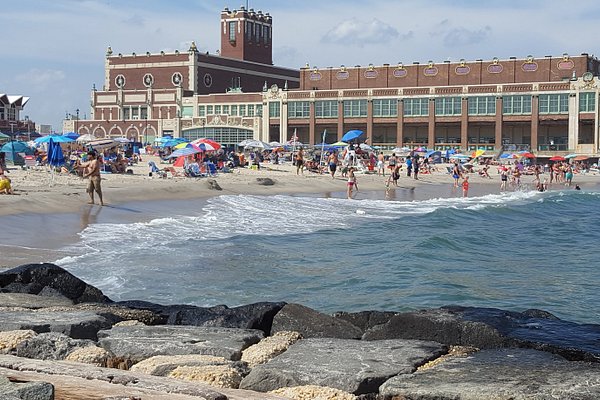 Asbury Park, a well-known seaside town in America, has been a popular tourist destination for decades. Despite its changing fortunes over the years, it still remains one of the coolest places to visit "down the shore". In fact, Asbury Park is a hub of activity all year round, with a particular buzz during the summer months.
Aside from its famous beaches, there are plenty of other things to do, explore, and experience in Asbury Park and its environs. If you're planning a trip, here are just a few ideas:
Enjoy the Beaches – Asbury Park boasts miles of beautiful, clean, and well-maintained beaches that are perfect for swimming, sunbathing, and beachcombing. You can rent a beach chair and umbrella, play beach volleyball, or even take surf lessons.
Visit the Boardwalk – The iconic Asbury Park Boardwalk is the place to be for food, fun, and entertainment. Take a stroll along the boardwalk and enjoy the views, check out the shops and boutiques, or grab a bite to eat at one of the many cafes and restaurants.
Explore the Music Scene – Asbury Park has a rich musical history and is home to many live music venues, including The Stone Pony, which has hosted legendary acts like Bruce Springsteen and Bon Jovi. Check out the schedule and catch a show during your visit.
Tour the Landmarks – Asbury Park has a number of historic landmarks, including the Paramount Theatre and Convention Hall, which have been restored to their former glory. Take a guided tour to learn more about the town's history and architecture.
Experience the Nightlife – Asbury Park is home to a vibrant nightlife scene, with a wide range of bars, clubs, and lounges to choose from. Whether you're looking for a quiet drink or a wild night out, there's something for everyone.
Celebrate the Holidays – Asbury Park is a great place to visit during the holiday season. From the annual Christmas tree lighting to the New Year's Eve fireworks display, there are plenty of festive events and activities to enjoy.
Asbury Park Beach entry during summer is currently 5 dollars on weekdays and 7 dollars on weekends and holidays. It is free for children of 12 years and younger, as well as active soldiers and the people that depend on them.
Asbury Park is a must-visit destination for anyone looking for a fun, exciting, and memorable seaside experience in America. So pack your bags, hit the road, and get ready to make some amazing memories!
CANNON BEACH OREGON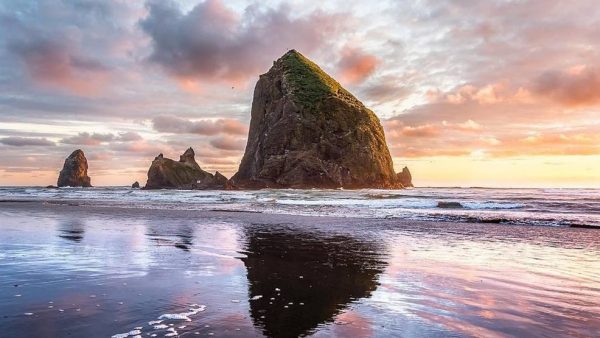 America boasts of several picturesque seaside towns that offer a perfect escape from the hustle and bustle of city life. One such town is Clatsop County, Oregon where Cannon Beach is situated. It is well known for its iconic Haystack rock, Cannon Beach is a popular tourist destination that offers visitors stunning views and remarkable natural areas that are sure to leave them in awe.
Cannon Beach's popularity is not without merit, as it has been named one of the 100 most beautiful places in the world, attracting tourists from all over the globe. Whether you're a nature enthusiast, an art lover, or simply looking for a relaxing getaway, Cannon Beach has something for everyone.
When in Cannon Beach, visitors can take a leisurely stroll along the coastline, marveling at the natural beauty of the Pacific Ocean. The town also has several hiking trails, offering visitors a chance to explore its rich flora and fauna.
Apart from natural attractions, Cannon Beach is also home to several art galleries, showcasing works of both local and international artists. The town's vibrant art scene makes it a popular destination for art lovers.
However, the beach's most famous attraction is the Haystack Rock, a towering 235-foot sea stack that dominates the coastline. Visitors can take a closer look at the rock during low tide and observe the fascinating marine life that inhabits the surrounding tide pools.
Oregon is undoubtedly one of America's best seaside towns, offering visitors a perfect blend of natural beauty, art, and culture. A visit to this charming town is sure to leave you with lasting memories of a truly remarkable experience.
OCEAN CITY MARYLAND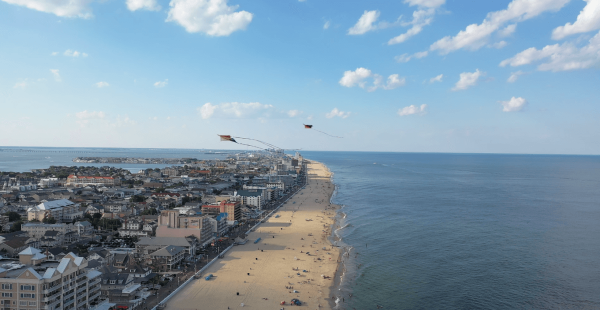 When it comes to America's seaside towns, Ocean City, Maryland is definitely worth a visit. Many visitors are drawn to this charming coastal town because of its nostalgic '80s vibes that still permeate throughout. With miles of sandy beaches to explore, Ocean City is the perfect destination for beach lovers and adventure seekers alike.
One of the most iconic attractions in Ocean City is the Boardwalk. Lined with seafood restaurants, amusement parks, boutiques, and other exciting attractions, the Boardwalk is a great place to spend an afternoon or evening. Take a leisurely stroll and enjoy the stunning ocean views, or hop on a bike and explore the Boardwalk's many sights and sounds.
For those seeking a thrill, Trimper's Rides is a must-visit destination. The Merry Go Round is a fan favorite, but there are plenty of other rides to choose from as well. Kids will love the bumper cars and other attractions, and there are indoor rides available year-round, while outdoor rides are open from June to September.
No visit to Ocean City would be complete without indulging in some Maryland crab. Crab feasts are a local tradition, and there are plenty of places to try this delicious delicacy. Get your hands on some fresh crabs and learn how to peel them like a pro. You can even ask locals on the beach to show you how it's done, so you can enjoy every succulent bite.
Other Must Do things in Ocean City are;
Assateague Island: Take a short drive to Assateague Island, a beautiful national park known for its wild ponies and stunning beaches. Visitors can hike, camp, fish, and even kayak through the park's pristine marshlands.
Jolly Roger Amusement Park: For thrill-seekers, Jolly Roger Amusement Park is a must-visit destination. With multiple roller coasters, water rides, and other attractions, this park is sure to get your heart racing.
Fishing: Ocean City is renowned for its excellent fishing opportunities. Head to the Ocean City Pier or charter a fishing boat for a chance to catch striped bass, bluefish, and other local species.
Sunset Park: Take a stroll through Sunset Park and enjoy stunning views of the bay. The park features a playground, picnic area, and a stage that hosts live music and events throughout the summer.
Miniature Golf: For a fun and family-friendly activity, try your hand at one of Ocean City's many miniature golf courses. From pirate-themed courses to glow-in-the-dark options, there's something for everyone to enjoy.
Ocean City Life-Saving Station Museum: Learn about the history of the U.S. Life-Saving Service and the role it played in saving lives along the coast. The museum features exhibits, artifacts, and interactive displays that will transport you back in time.
Ocean City, Maryland is a fantastic destination for those seeking a mix of nostalgia, adventure, and fun in the sun. Whether you're looking to relax on the beach or explore the town's many attractions, there's something for everyone in this charming coastal community.
REHOBOTH, DELAWARE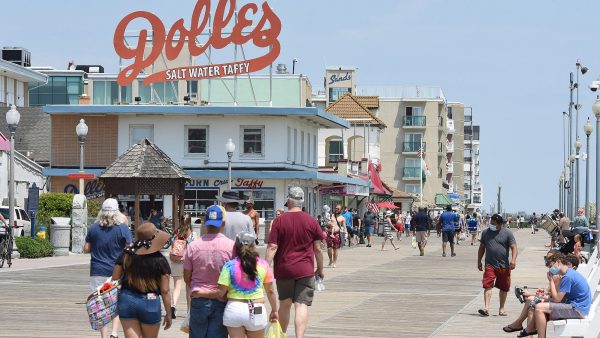 If you are planning a trip to one of the American seaside towns, Rehoboth in Delaware is a must-visit destination. This charming coastal town is known for its long-established LGBTQ community, which has helped create a vibrant and inclusive atmosphere. As you stroll along the Rehoboth beach, you'll see lots of people, including guys strutting their stuff.
Apart from its welcoming community, Rehoboth boasts of an excellent bar and restaurant scene. One of the town's famous personalities is the founder of Dogfish Head, who is often seen skating around town. His restaurant, Chesapeake & Maine, is one of the town's first signs you have arrived at the beach.
If you're a sports enthusiast, Rehoboth has plenty to offer. You can engage in sailing, surfing, and other water sports activities. But, even if you prefer more leisurely activities, you should not leave Rehoboth without taking a bike ride through Silver Lake, a picturesque neighborhood with stunning water views.
Rehoboth is a fantastic seaside town that offers a unique blend of culture, history, and recreation. Its welcoming and diverse community, great dining options, and various outdoor activities make it a perfect vacation destination for anyone looking to unwind and enjoy a coastal lifestyle.
TYBEE ISLAND, GEORGIA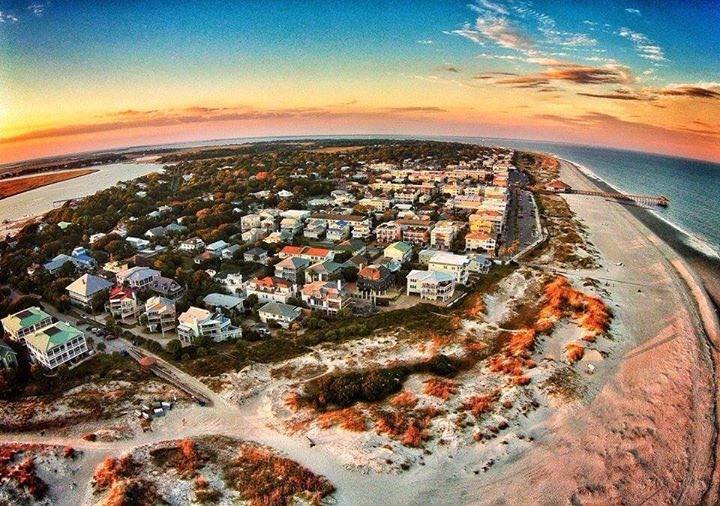 When it comes to seaside towns in America, Tybee Island is one that shouldn't be missed. This charming island is located just 30 minutes away from Savannah, the eastern point of Georgia, and is an ideal spot for those looking for a perfect mix of beach fun and delicious seafood.
Tybee Island boasts public beaches that are perfect for sunbathing, building sandcastles, and dancing in the sand. With over 25 restaurants serving fresh, locally caught seafood, you're sure to find something to satisfy your taste buds.
Aside from lounging on the beach, there are plenty of other things to do on Tybee Island. Head over to Seaside Sweets to grab some ice cream and satisfy your sweet tooth, or spend some time at the pier at sunset and enjoy the breathtaking views.
During the summer months, don't miss the chance to hunt for sea turtle nests along the shoreline. It's a rare opportunity to witness the beauty of nature up close and personal.
If you're in the mood for some mouth-watering seafood, head to the Crab Shack for a delectable seafood platter. And for some of the best shrimp tacos you'll ever have, make sure to check out THE DECK.
Whether you're looking for a quiet escape or a lively beach town with lots of activities, Tybee Island is the perfect destination. With its laid-back vibe, friendly locals, and stunning views, it's no wonder it's a favorite among tourists and locals alike.
SANTA MONICA, CALIFORNIA
When it comes to American seaside towns, Santa Monica, California is a destination that should be on everyone's travel list. This vibrant city offers a perfect blend of sun, sand, and entertainment, making it a great place to enjoy a beach vacation.

One of the must-visit spots in Santa Monica is the iconic Santa Monica Pier. The pier is known for its classic amusement park rides, including a Ferris wheel, carousel, and roller coaster. There are also plenty of restaurants, shops, and street performers to keep you entertained.
For those who love shopping, the Third Street Promenade is a pedestrian-only street that features a variety of shops, restaurants, and entertainment venues. It's a great place to spend an afternoon strolling around and soaking up the atmosphere.
If you're looking for a little more adventure, head to the Santa Monica Mountains National Recreation Area, which offers miles of hiking trails, scenic drives, and opportunities for wildlife viewing. And of course, you can always spend your days lounging on the beach, soaking up the sun, and swimming in the Pacific Ocean.
Other top attractions in Santa Monica include the Annenberg Community Beach House, which offers a unique and historic swimming pool experience, and the Bergamot Station Arts Center, which is home to a variety of art galleries and studios.
With so much to see and do, Santa Monica is a fantastic destination for a seaside vacation. Whether you're traveling with family, friends, or on your own, you're sure to have an unforgettable experience in this beautiful coastal city.
MIAMI BEACH, FLORIDA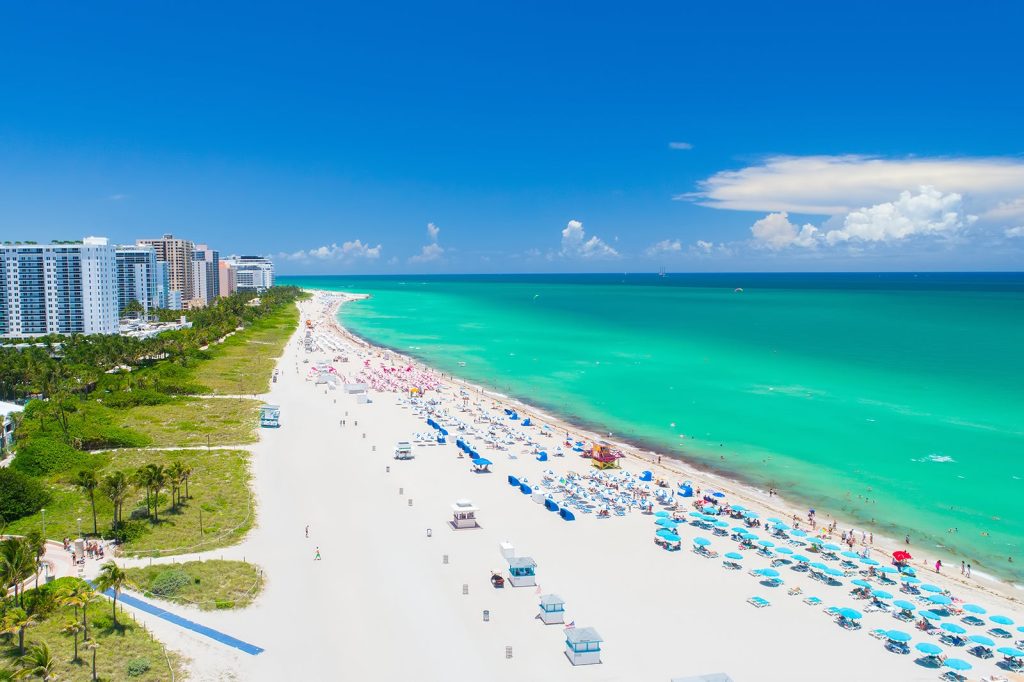 If you're looking for a quintessential American seaside town to visit, Miami Beach, Florida should definitely be on your list. This iconic destination is known for its beautiful beaches, vibrant nightlife, and upscale shopping and dining scene. Here are some of the top places to visit and things to do to make the most of your vacation:
South Beach – No trip to Miami Beach is complete without a visit to South Beach, the heart of Miami's beach scene. Here, you'll find miles of sandy beaches, turquoise waters, and colorful lifeguard stands. Be sure to check out the iconic Art Deco architecture that lines Ocean Drive.
Lincoln Road – This pedestrian-friendly outdoor mall is home to some of the best shopping, dining, and people-watching in Miami Beach. From luxury boutiques to local restaurants, there's something for everyone on Lincoln Road.
Little Havana – If you're looking for a taste of Miami's vibrant Cuban culture, head to Little Havana. This neighborhood is known for its colorful murals, salsa dancing, and delicious food. Be sure to try a Cuban sandwich and sip on a mojito while you're there.
Miami Beach Boardwalk – Take a stroll or bike ride along the Miami Beach Boardwalk, which offers stunning views of the ocean and access to some of Miami's best beaches. It's a great way to get some exercise and enjoy the beautiful scenery.
Vizcaya Museum and Gardens – For a taste of Miami's history and culture, visit the Vizcaya Museum and Gardens. This stunning estate was built in the early 20th century and features lush gardens, European-inspired architecture, and stunning views of Biscayne Bay.
Nightlife – Miami Beach is known for its lively nightlife scene, with plenty of clubs, bars, and lounges to choose from. Whether you're looking for a laid-back beach bar or a high-end nightclub, you're sure to find something that suits your style.
Watersports – With its warm waters and sunny skies, Miami Beach is the perfect place to try your hand at watersports. From jet skiing and parasailing to paddleboarding and kayaking, there are plenty of options to choose from.
Whether you're looking for a relaxing beach vacation or a lively city experience, Miami Beach has something for everyone. With its stunning beaches, vibrant culture, and endless entertainment options, it's no wonder it's a top destination for travelers from around the world.
NANTUCKET, MASSACHUSETTS
When it comes to charming seaside towns in America, Nantucket, Massachusetts is undoubtedly a must-visit destination. This quaint New England town is famous for its cobblestone streets, historic homes, and picturesque beaches.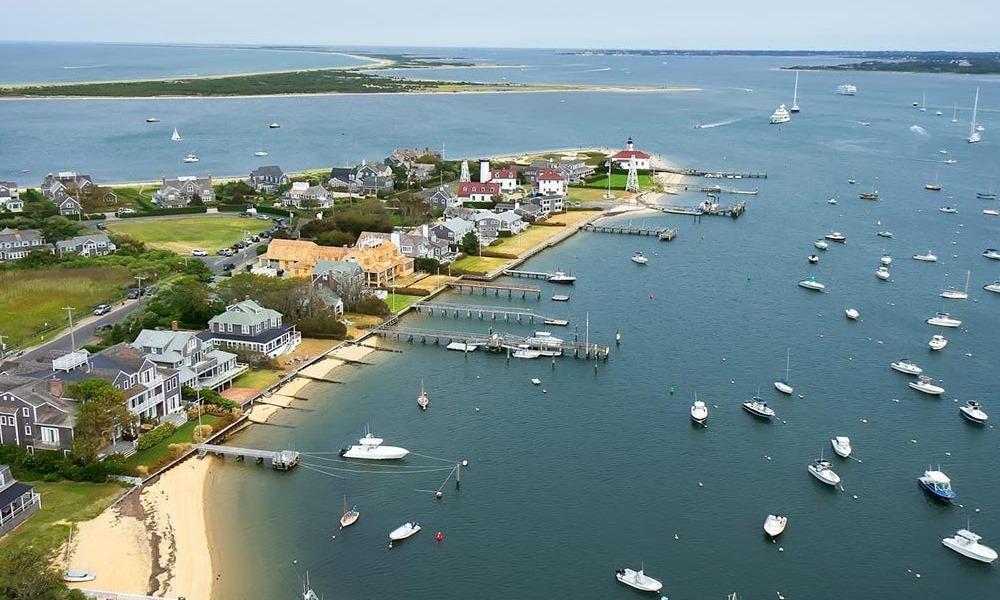 While on vacation in Nantucket, there are plenty of places to visit and things to do to ensure you have an unforgettable experience. Here are some of the top attractions and activities:
Explore Main Street – Take a stroll down Main Street and admire the charming 18th-century architecture, boutique shops, and art galleries.
Visit Brant Point Lighthouse – Take a trip to Brant Point Lighthouse, located at the entrance to Nantucket Harbor, and enjoy the stunning views of the coastline and harbor.
Bike the island – Rent a bike and explore the island's picturesque beaches, rolling hills, and quaint neighborhoods.
Hit the beach – With over 80 miles of pristine coastline, Nantucket offers plenty of beautiful beaches for swimming, sunbathing, and beachcombing.
Tour the Whaling Museum – Learn about the island's rich maritime history at the Whaling Museum, which features exhibits on the island's whaling past and its role in the American Revolution.
Enjoy fresh seafood – Nantucket is known for its fresh seafood, so make sure to indulge in some delicious lobster rolls, clam chowder, and oysters.
Take a boat tour – Explore the island from the water with a boat tour, which offers views of the island's stunning coastline and wildlife.
Visit Sankaty Head Light – Take a trip to the easternmost point of the island and visit Sankaty Head Light, a historic lighthouse that has been guiding ships since the 1800s.
With its charming atmosphere, rich history, and stunning beaches, Nantucket is a top destination for those seeking a relaxing seaside vacation.
HILTON HEAD ISLAND, SOUTH CAROLINA
Hilton Head Island, South Carolina is a coastal gem that should be on every traveler's list of must-visit American seaside towns. Situated on the southern coast of South Carolina, this beautiful island offers pristine beaches, championship golf courses, and luxurious resorts.
One of the most popular things to do on Hilton Head Island is to simply relax on the beach. With miles of soft sand and warm, turquoise water, it's the perfect spot to soak up the sun and take in the beautiful ocean views.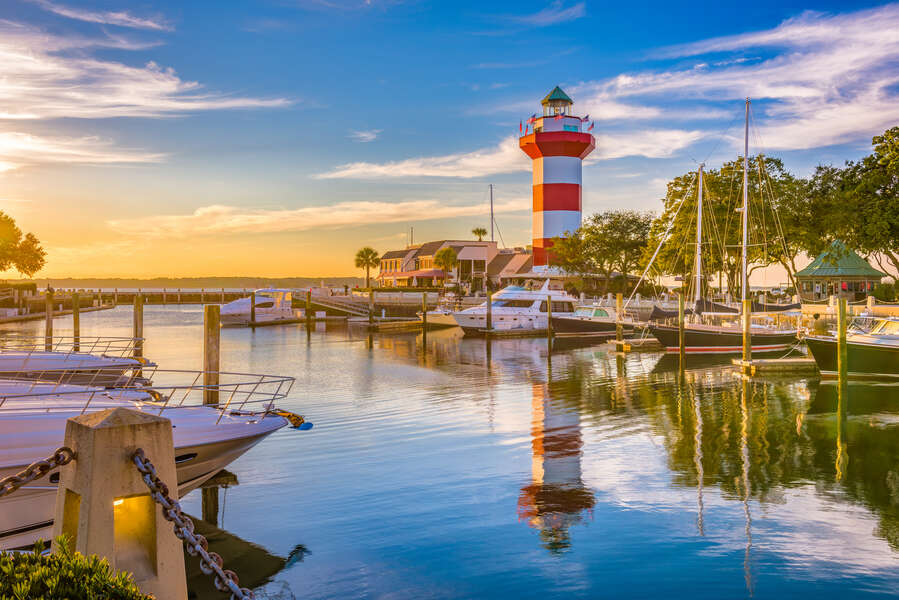 For those who enjoy outdoor activities, there are plenty of options available on Hilton Head Island. Take a bike ride along the beach or explore the island's network of scenic nature trails. Kayaking, paddle boarding, and fishing are also popular activities, with plenty of guided tours and rentals available.
If you're looking to hit the links, Hilton Head Island is home to some of the best golf courses in the country. The island has over 30 world-class golf courses, with stunning views of the ocean and surrounding landscapes.
When it comes to dining, Hilton Head Island offers a range of options to suit every taste and budget. Fresh seafood is a must-try, with many restaurants offering locally caught shrimp, oysters, and fish. The island also boasts plenty of fine dining options, as well as casual beachside eateries.
In addition to its natural beauty and outdoor activities, Hilton Head Island is also home to a vibrant arts and culture scene. From live music and theater to art galleries and museums, there's always something happening on the island.
Whether you're looking for a relaxing beach vacation or an active getaway, Hilton Head Island has something for everyone. So pack your bags, grab your sunscreen, and get ready to experience all the beauty and fun this American seaside town has to offer.
In conclusion, there are countless American seaside towns that are worth a visit, each with its own unique charm, history, and natural beauty. From the stunning beaches of California to the quaint fishing villages of Maine, there's a coastal town to suit every traveler's taste. Whether you're looking for relaxation, adventure, or a little bit of both, the seaside towns of America offer an unforgettable vacation experience. So why not plan your next beach getaway today and discover all that these beautiful towns have to offer?