In every group, there is one friend to whom everyone comes for advice. Not for relationship advice, but for advising regarding what tech gadget to buy. I am that guy in my group! There has once been a time when the line between smartphones, tablets, and computers was very broad. Like computers weren't meant for running applications, smartphones came with type pad and served for one single purpose – calling (and sometimes playing games or music), and people weren't paying much attention to tablets due to high price.
But these days, the line seems to almost vanish. Smartphones are now being released with as much as 4gb ram, tablets with capabilities of handling desktop tasks, and desktops turning into portable devices.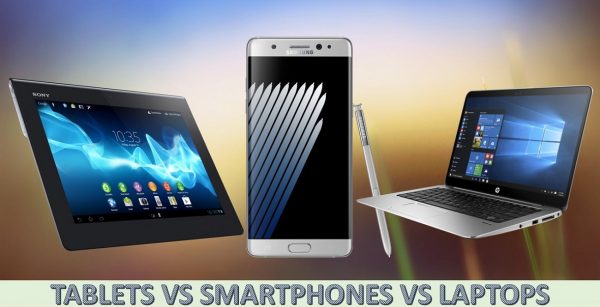 With this line being almost worn out, it's quite necessary to learn on what you should spend money on – Laptop, smartphone, or tablet.
Laptops
Unlike heavy desktops, laptops are personal computers that are easy to carry around. Laptops aren't fixed to a place neither they need a lot of cable work(which makes them easy to carry). The tech in laptops has been advanced dramatically in the last few years which enabled them to give a hard competition to desktop computers. I personally ditched desktops 2 years ago and started using laptops. As of now, my workstation has both desktops and laptops.
When it comes to newbies, I'd always recommend getting a desktop instead of a laptop. Because I personally learned about computers using my desktop PC. Due to my desktop, I have a sound knowledge of what hardware goes inside a computer.
The laptop is for when you don't have to do tedious tasks like hardcore gaming or run industry-standard software.
Pros of Having a Laptop
You can have a full-fledged computing experience despite the fact that you don't have to go through all the hassle of wires and other things.
Let it be gaming or office work, you can do anything that you could do on your desktop.
Not to forget that your device is portable, you can use it wherever you want! Coffee shop, bedroom, or office desk – whatever works for you! (and has an electric socket).
Cons of Having a Laptop
Even with the same configuration, Laptops are more expensive than desktops.
Despite being referred to as 'portable,' these devices do carry some weight.
Costs of laptop repair are far more than that of a desktop.
More About Laptop
– Why Your Computer Needs More Than an Antivirus
– Why Smartphones are Preferable to Laptops and Tablets?
– How to Change Display Size of Taskbar Thumbnails on Windows PC
Tablets
They were once compared with smartphones because of their low specifications. But, with time, they are now competing for the end-to-end with even laptops.
Laptops took in one step further when they added portability in their feature. The tablets took the whole portability thing to one step further.
The main reasons people prefer getting a tablet over a smartphone(or sometimes even a tablet) are –
Portability: As mentioned above, the USP of tablets is lightweight and easy to carry around. You'll agree with this as long as you don't have a MacBook. Despite being portable, laptops do carry some weight.
Productivity: These days, with more and more applications being made for tablets(Android), tablets are fast becoming the choice of users. Primarily because tablets have a comfortable touch surface, added with a Bluetooth keyboard, it works like a charm. It might not offer as much functionality as a laptop, but definitely more than a smartphone.
Easy to use: Laptops are easy to use if you are in a coffee shop or have a proper surface to keep your laptop on. If you are in a taxi or walking down the road, you won't be able to 'comfortably' use your laptop. This is where tablets leap one step ahead. Unlike laptops, they don't need space to be flipped out. All you have to do is to power up them and start using. Rest, it depends on you whether you wish to work on a work document or play candy crush saga(no this isn't sponsored).
Battery life: I won't blame laptops for not having a long battery life. With so many programs and functions, it becomes very hard for a battery to last long. Although, this isn't a problem in a tablet. The majority of the tablets have more battery life than a laptop and last longer than what a typical laptop does.
Flexible: Increase the screen size, your smartphone comes near a tablet. Remove the keyboard from your laptop, it comes near the tablet. The point is, a tablet is somewhere between a smartphone and a laptop. You can use it for writing word documents, making video calls, and shooting videos.
Cons of tablet
Some users are not much comfortable with touch screen keyboards. Although they can get a Bluetooth keyboard, still carrying it around takes effort.
Tablet PCs are not good for gaming.
The majority of the tablets don't provide a voice-calling feature.
Smartphone
Now the thing that took the whole society by storm. This is indeed the most widely used piece of tech gadget in the 21st century. I can hardly recall anyone whom I met, and they didn't have a smartphone(trust me I try).
The USP of smartphones is their ultra-portability. Smartphones can easily be carried in the pockets. Small tasks such as reading a document or browsing the internet can be done easily with smartphones. Not to mention that you can shoot videos, listen to music and play games too.
Pros of smartphones
Cons of Smartphones
For reading ebooks, the screen size might be a problem.
You can't do heavy or even moderate work on your smartphone.
They need a laptop or desktop to feed large chunks of data.
Smartphone Tips Specially Posted for You
– 5 Quick Tips to Make Your Smartphone Charge Faster
– Solutions to Android Device Not Connected with USB on Computer
– How to Effectively Save Your Smartphone from Low Storage Space
– What Is The Best Smartphone For You To Purchase?
To narrow it down – it all depends on what you need the device for.
Do you need a device for blogging? – Get a laptop!
Do you need a device for listening to music and browsing the internet? – Get a smartphone!
Before going for any device, make sure you first figure out what you need a device for and then buy one accordingly.