Seeing the super-cute chibi anime characters, it would be hard not to try this game on your Android phone. Even the monsters are cute in a weird way.
Part Time Hero:Monster Mayham is a "hero kills monsters" game with some attractive elements. It is advertised as the "easiest hero game in the world," and it is certainly not hard. You tap your phone's screen to make your Hero bash monsters with his sword. There are 10 chapters with 10 stages and 10 monster waves. You kill the set number of monsters and you move on.
The progress mechanism is the usual fare. Gold coins are collected by defeating monsters and by doing exotic part-time work, such as digging sand in the playground. If only it was that easy to earn gold in real life.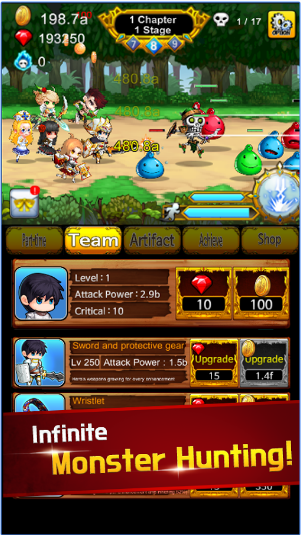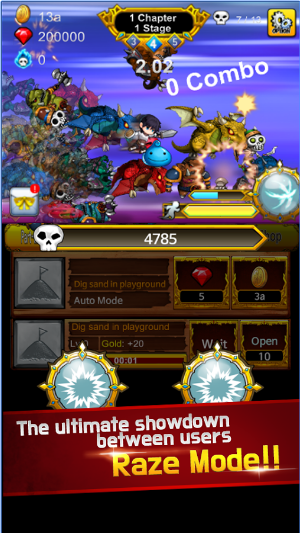 Gold coins and rubies can be used at the shop to buy all kinds of skills, equipment and gear for your Hero and his sidekicks. "You can be a hero to others," says the game, as you can also make purchases for your friends. There is a ranking board where you can see how you fare compared to others.
When you complete an achievement, you get a ruby. You can also get some rubies and gold by watching videos in the game inbox. By clearing chapters, you will gradually unlock nine artifacts with special abilities.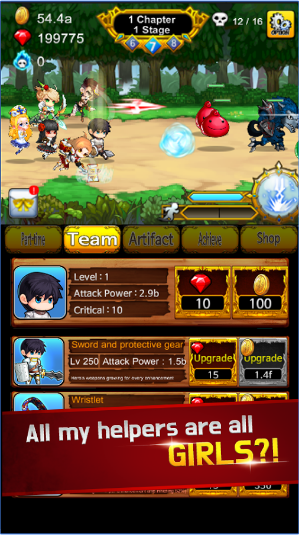 But the most attractive feature of the Part Time Hero game is team building. When you have enough rubies or gold coins, you can unlock your sidekicks.
The sidekicks are the stock RPG characters in the guise of five pretty girls. You get them one by one. They are unlocked in the following order:
Rachel – Holy Knight – As the first sidekick, Rachel brings a much-needed increase in your Hero's attack power. She wields an ax, and a Bible… for moral support, I guess.
Diana – The Assassin – This classic thief character increases the recharging speed of your Hero's active skill. With her two knives, she is super-cute in a tomboy way.
Rosa – The Archer – She helps the acceleration status of your Hero. Instead of elven ears, Rosa has two nice circular braids topped by a William-Tell apple. Her bow shoots lightning-bright arrows.
Stella – The Wizard – A genuine femme fatale, Stella knows the weak points of everybody. She will increase your Hero's weak point attack by 50%. Stella has a sorcerer's wand for spells and a patched teddy bear that is crying for a hug. Aw, poor thing…
Luka – The Healer – This fretting nurse will help your Hero feel better after a scuffle with a dragon or zombie.
The sidekicks' abilities can be improved with the monster souls you collect.
If you want, you can reset the game after the second chapter by clicking a button at the shop called "Rebirth". It will reset everything except rubies, monster souls and the sidekicks' enhancement count. Take care: if you delete the app from your Android device, you will lose all the Saved Data.
With its simple progress and cute graphics, Part Time Hero:Monster Mayham will keep you playing at least until you have unlocked all your pretty helpers. And you may get addicted well before then.
You can get the app for Free at Google Play Store – https://play.google.com/store/apps/details?id=com.nori.PartTimeHero