With technology of today in producing Smartphones if it's not Apple, it's probably Microsoft or Samsung, but you already know that the war is between these three companies, but in this case we excluded Apple and focused on two tablets from Microsoft and Samsung – Surface Pro 3 and Galaxy Tab S 8.4., which are very different in all areas.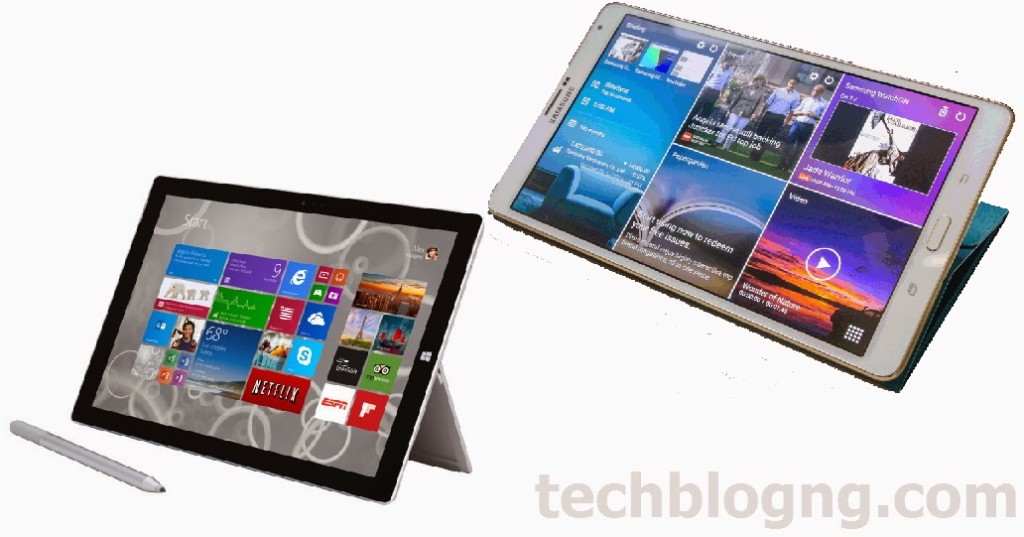 One of them is a hybrid that can transform into a tablet and has a much bigger screen, while the other is a regular tablet with a cheap design.
MUST READ: Xiaomi Mi Note Pro – Specifications and Price Review
Designs, Displays and Dimensions
The Surface Pro 3 has a prettier aspect, its chassis being made of magnesium alloy, but it's thicker than the Tab S 8.4, its dimensions being 290x201x9.1mm and having a weight of 800grams. The awesome thing about this device is that it can be used both as a tablet and laptop by adding a physical keyboard and a mouse, but you must buy them separately and they cost 130 dollars and 50 dollars respectively, on Microsoft's website. As for the screen, it measures 12inches and it's an LCD with a resolution of 2160x1440pixels which gives a pixel density of 216ppi.
The Tab S has an 8.4inches screen, made using Super AMOLED technology, but it managed to obtain a higher resolution of 1600×2560 pixels at 359ppi, and if it defeated Microsoft in this department, Samsung failed to impress with its tablet's design, borrowing the look from its Galaxy S5 flagship, which is famous for having those annoying perforated dots on the plastic back.
However, the Tab S has the same fingerprint sensor which is very useful if you want to lock/unlock the home screen by scanning your fingerprint. The water and dust protection wasn't added, though. The device weights 294grams and its dimensions are 212.8×125.6×6.6 mm.
Must Read: How to Disable Mobile Data as Screen Turns Off on Android Devices
Hardware
The Surface Pro 3 is using an Intel Core i3/i5/i7 processor with 4GB/8GB of RAM, which is more
powerful than the Exynos 5 Octa 5420 octa core processor from the Tab S, which consists of two quad core processors clocked at 1.9GHz and 1.3GHz and which is backed by 3GB of RAM. Again, Samsung loses ground regarding the storage capacity, which is available in two variants of 16 and 32GB, but thankfully, the tablet has a microSD card slot and you can get up to 128 GB. The Surface Pro 3 has 64GB of storage on the i3 variant, 128GB and 256GB on the i5 variant and 256GB and 512GB on the i7 variant.
Cameras and Batteries
Both Front and Back Cameras of Surface Pro 3's are 5MP, while the Tab S spots an 8MP back camera and a 2.1MP secondary camera. The built in battery from the Surface Pro 3 can support 9 hours of multimedia usage, while the Tab S's 4900 mAh battery supports two hours more.
MUST READ: Innjoo i1s vs Infinix Hot – Comparison with Specification and Price Review