Tanzania is an African country, which has lots of beautiful places to explore while on vacation. Among these places are its beaches, natural attractions, and natural parks. However, we'll be discussing the top 10 Tanzania beaches for unlimited fun. Most Beaches are beautiful, but the ones in Tanzania are extraordinarily pleasing to the eyes. You can shop for travel backpacks before embarking on the trip.
Below is the list of beautiful Tanzania beaches.
1. Nungwi Beach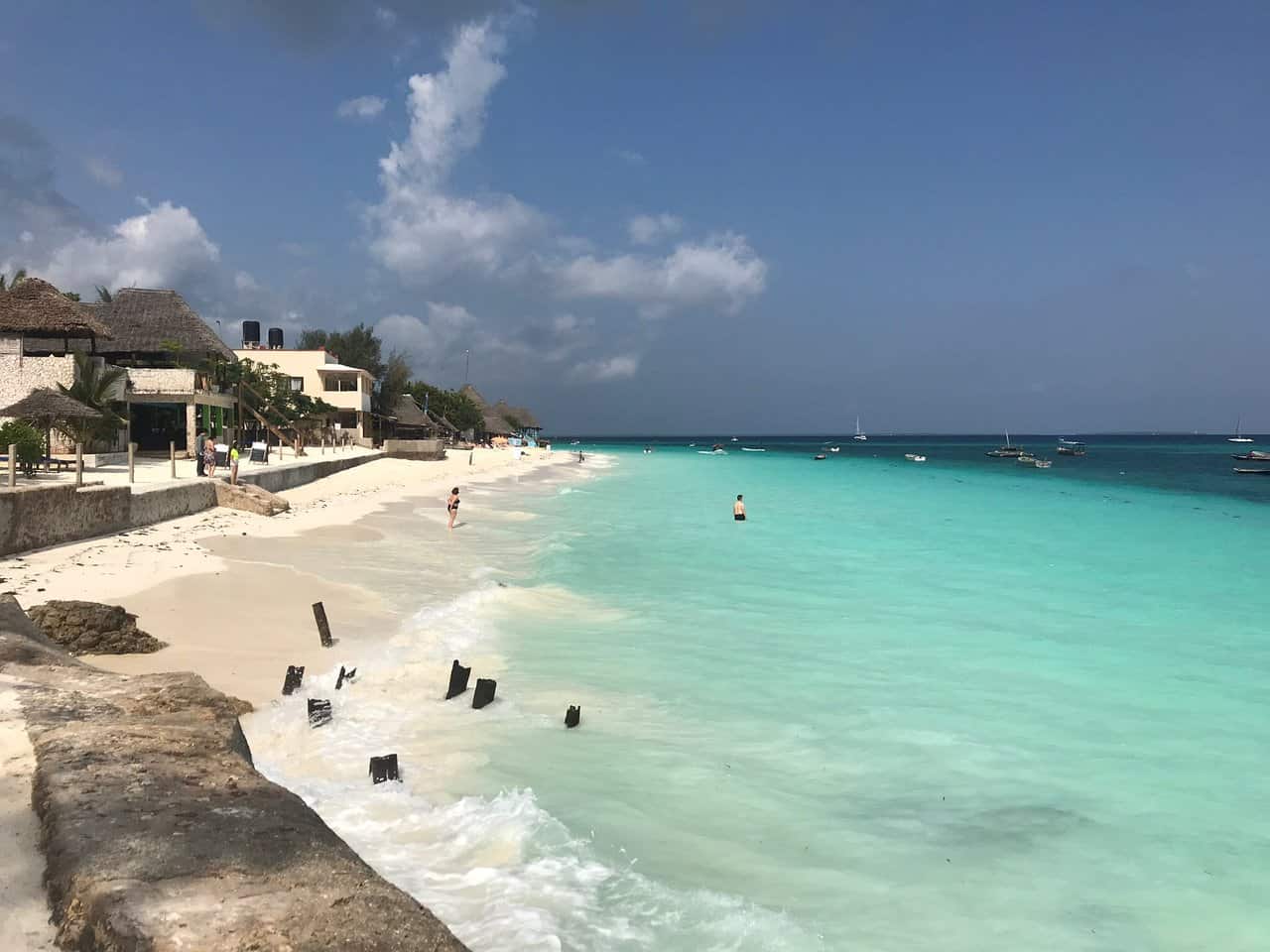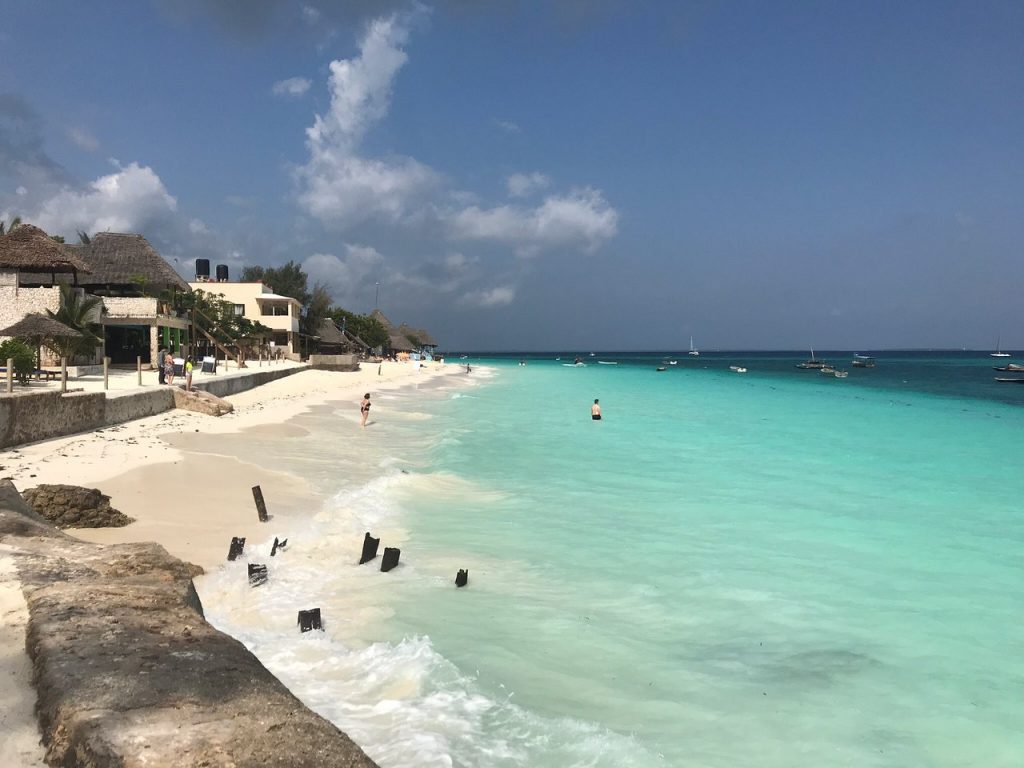 Nungwi Beach is famous for its white sands, exotic flora, and clear blue waters. However, everything good has a price, as Nugwi Beach is so famous that tourists go to the beaches to sell their stuff, making the beach overcrowded most of the time.
You can enjoy the sunny weather on the island of Zanzibar, which is situated near the equator. Even tourists and other visitors can enjoy a drink on the rooftop bar. Furthermore, Nungwi beach has various restaurants to suit everyone's taste, so you shouldn't leave that beach without tasting the local delicacies there.
2. Paje Beach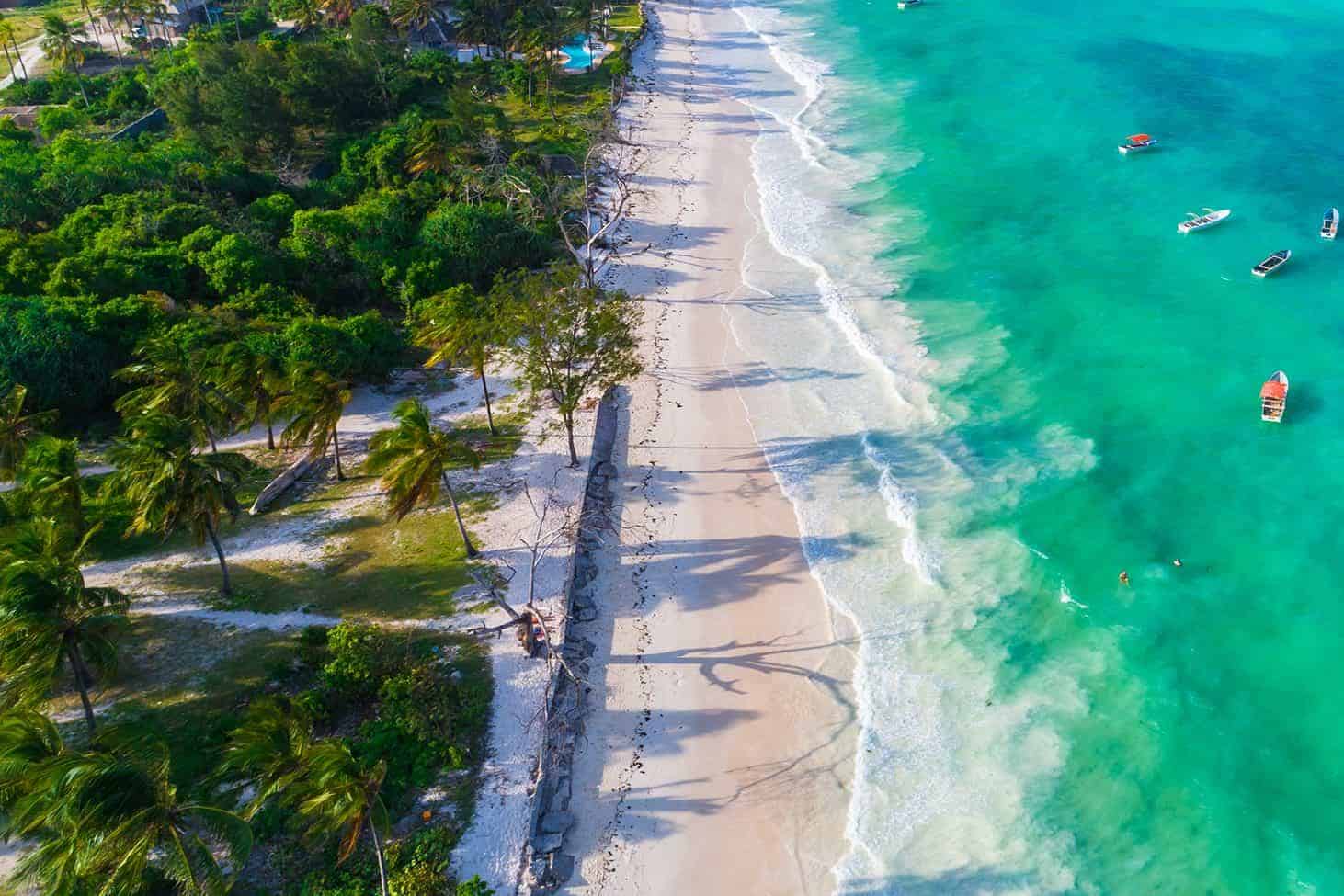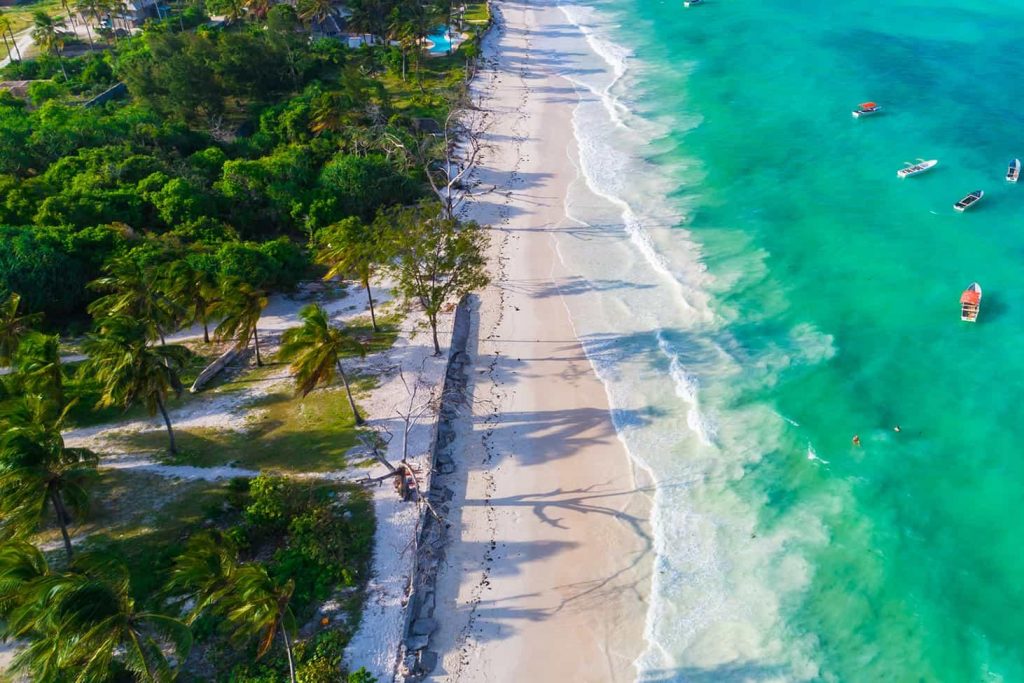 Paje is a small Tanzanian village. Paje's beach is less crowded than Zanzibar's other beaches. Visitors come to the beach to enjoy the Indian Ocean's warm waters and breathtaking views. They also visit during their vacations or holidays. Strong winds blow in this beach's area, but this does not make it dangerous for visitors. On the coast and at the bottom, there is also fine white sand.
The slope is flat, and the water gradually deepens during a tide. In the water, there are no stones. All these features make Paje beach one of the top Tanzania beaches. Furthermore, for families with small children, the conditions are ideal. Swimming in the farm area is not recommended because you could injure yourself on the iron poles installed by the planters.
3. Kendwa Beach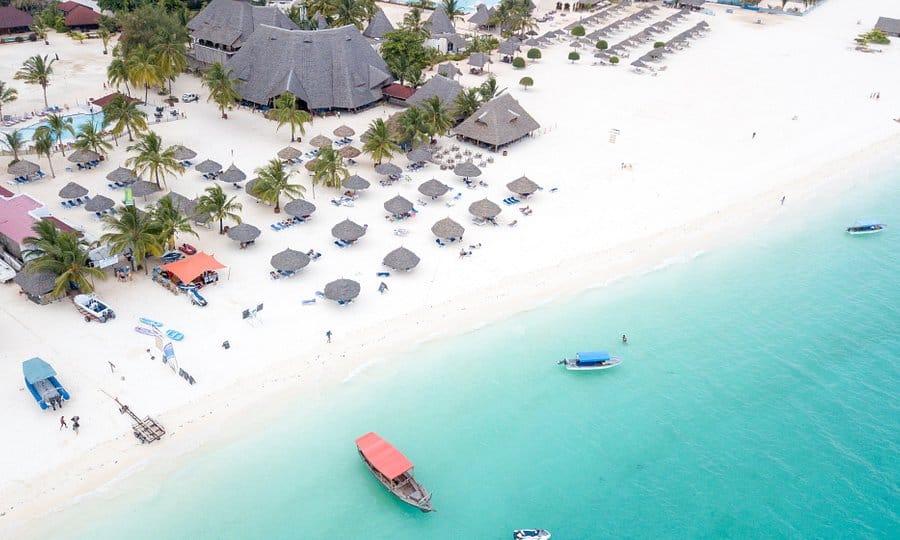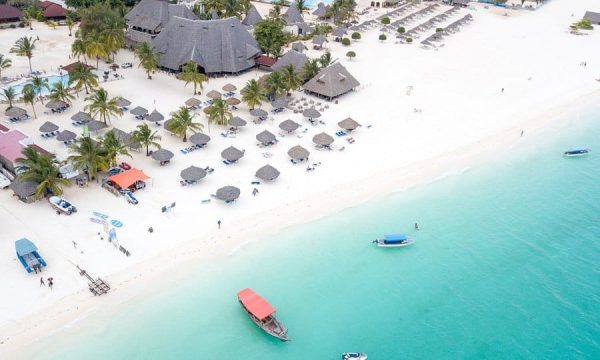 Kendwa Beach is one of the beautiful Tanzania beaches. It is sometimes called the Nungwi Beach's "little sister" and is far quieter than the other beaches. The clear water and white sands in Kendwa beach are genuinely magnificent. The tide doesn't change; it's one of the few beaches on Zanzibar, making clear waters perfect for scuba diving, swimming, and snorkeling. As the waters of Kendwa go deep rapidly, the range is less than on the east beaches. You can also walk from Nungwi to Kendwa Beach at a low tide, and there are the same sand and turquoise waters but fewer people.
4. Utende Beach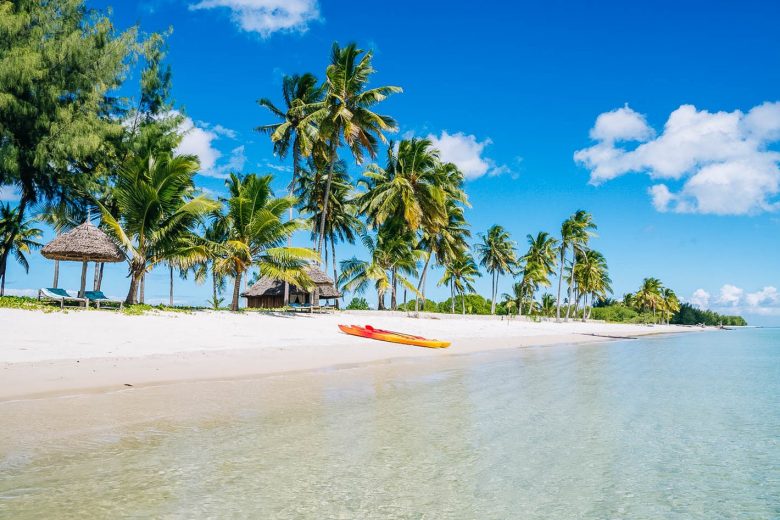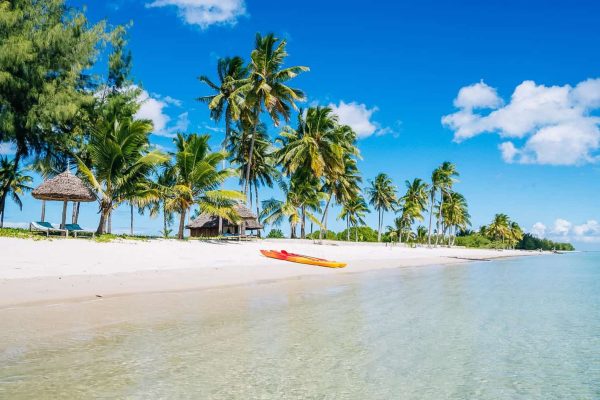 Utende Beach is one of the great Tanzania beaches. This is an enchanting island, and the Mafia is the old Arabic word for 'there.' Also, it is an excellent destination for a lover of the beach who also loves to explore below the surface just off the south-eastern coast of Dar es Salaam, which is primarily dominated by the waves of tourists in Zanzibar. Mafia Island Marine Park comprises about 50 percent of the island's coastal waters with the soul and heart of Utende beach.
5. Kizimkazi Beach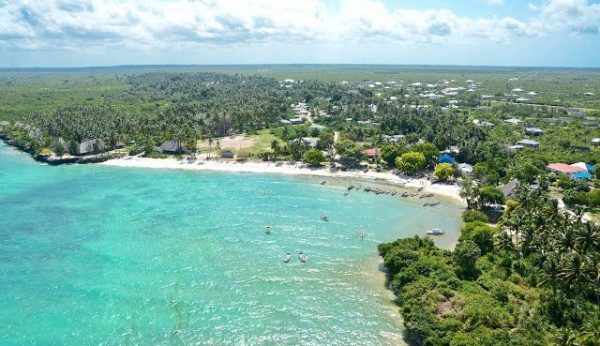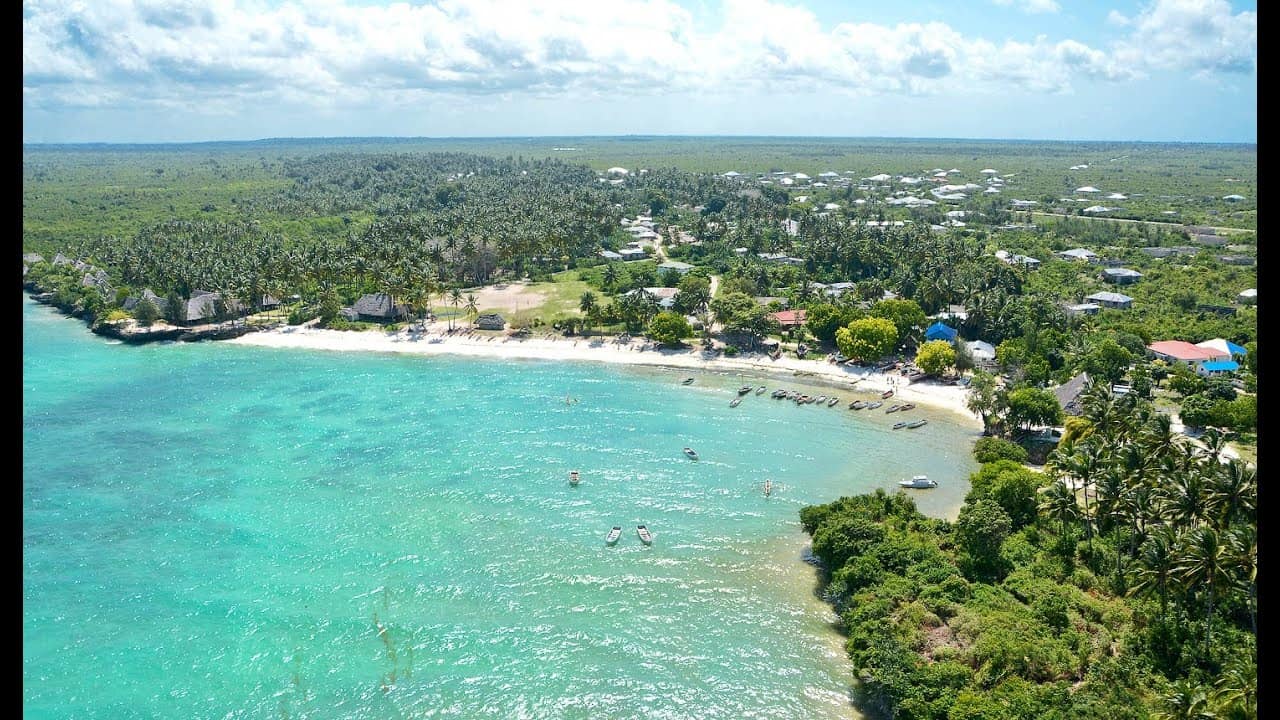 Kizimkazi is one of the sandy Tanzania beaches. It is located on Zanzibar's southwest coast located in a fishing village of the same name. The shoreline here differs significantly from the traditional East Coast palm-backed lagoon. Here there is a coral rag cliff over the sea, and the beaches are smaller than vast stretches of sand. There are fewer options for accommodation, and the area has an authentic and distinct atmosphere.
6. Misali Beach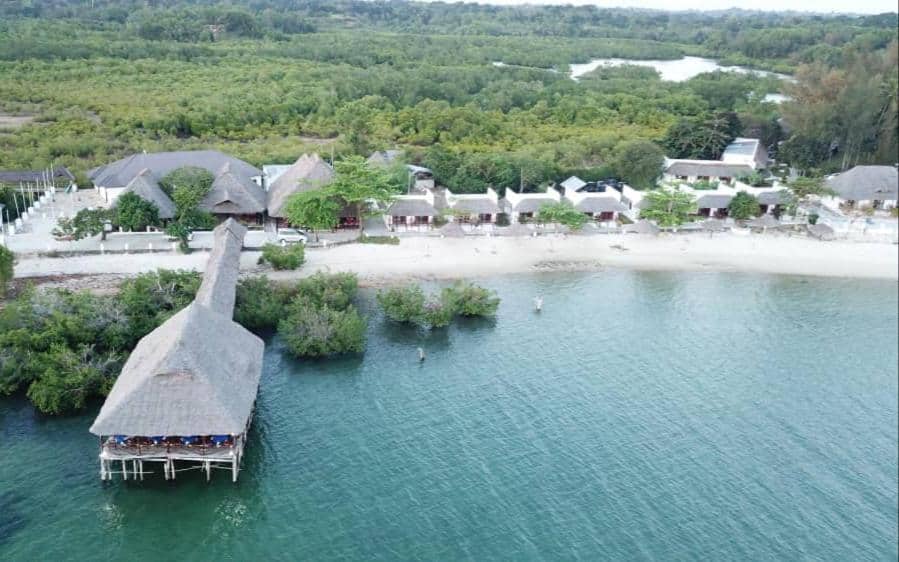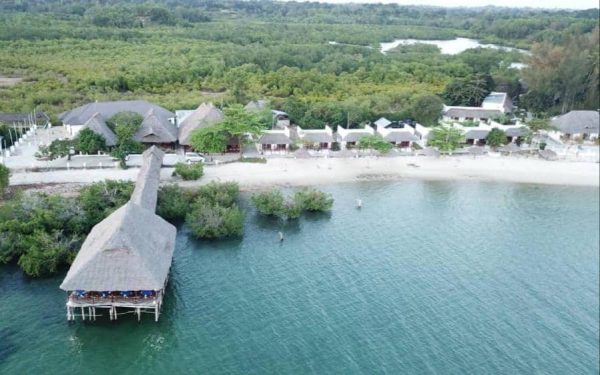 The island of Misali lies, off Pemba Island's west coast. It lies surrounded by plunging coral reefs and is one of East Africa's best scuba and deep-sea anglers, with over 300 fish species recorded in their waters. It offers 20 types of air-conditioned accommodation. The bathroom has complimentary toiletries with a rainfall shower. No permanent lodges on the island are available, so that it is only accessible by day trip. All these features make Misali Beach among the best Tanzania beaches you should explore.
7. Prison Island Beach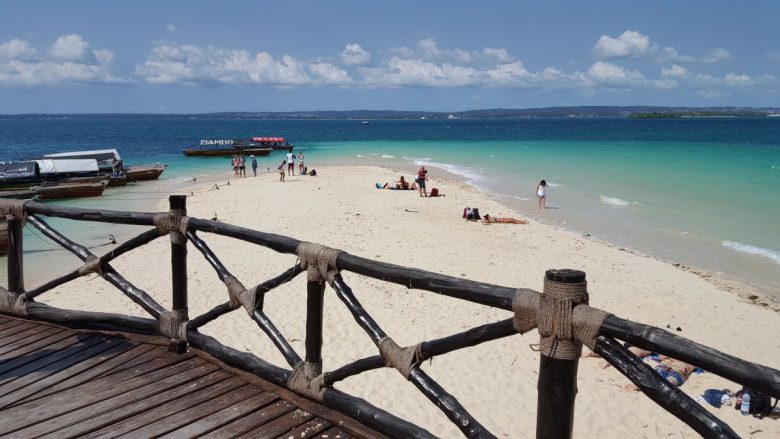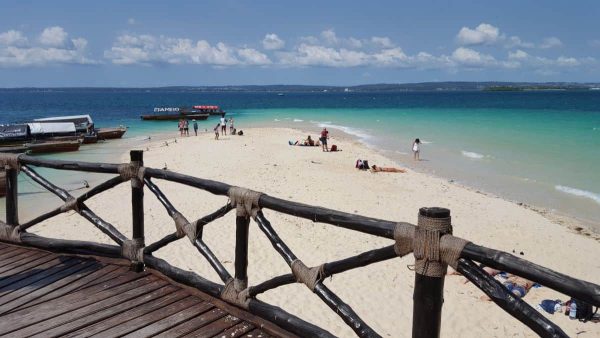 We can't compile this list of Tanzania beaches without mentioning Prison Island Beach. Slaves were once imprisoned on Prison Island, which also served as a quarantine. Changuu Island is another name for the fish in Swahili. The beach is small, quiet, and ideal for a relaxing stroll or viewing wildlife. On one side of Prison Island is a giant sea tortoise sanctuary given to Seychelles as a gift. A 5-minute walk across the island will take you to the ruins of a former jail. Typically, a visit includes snorkeling on the reef right off the beach, but you probably had 'giant turtles.' 
8. Sange Beach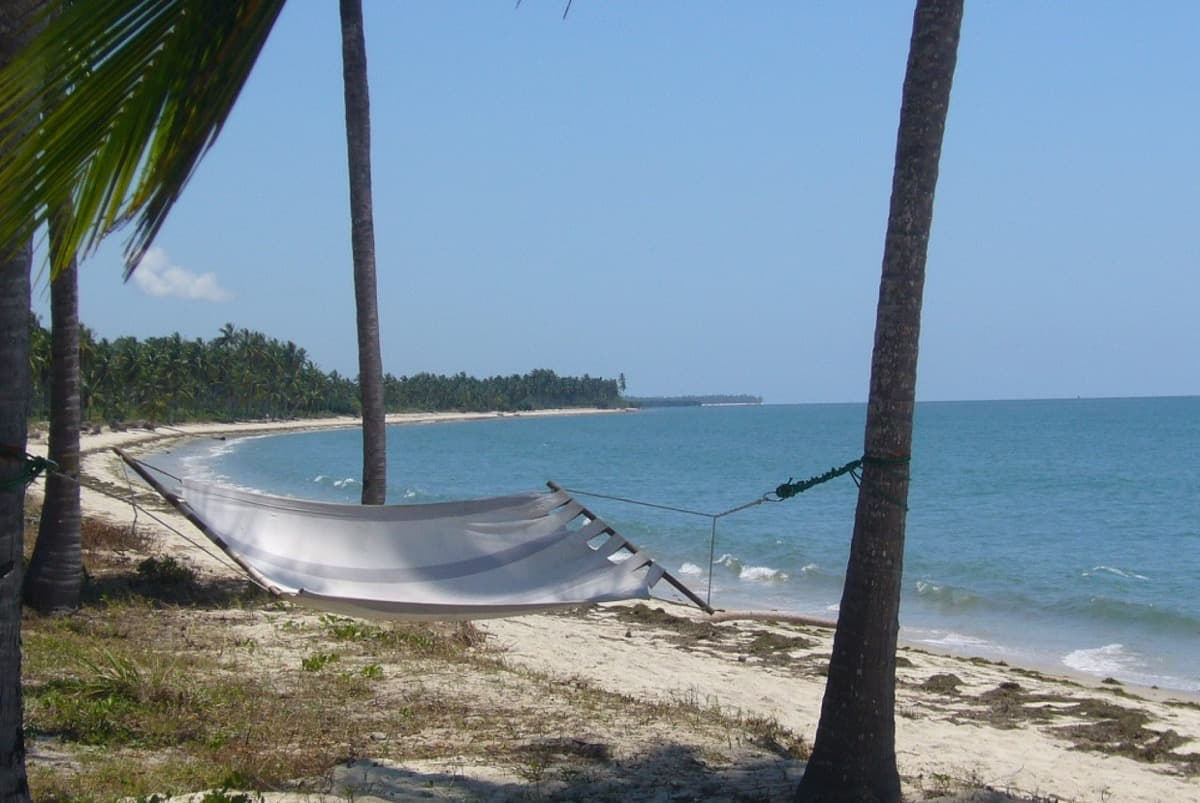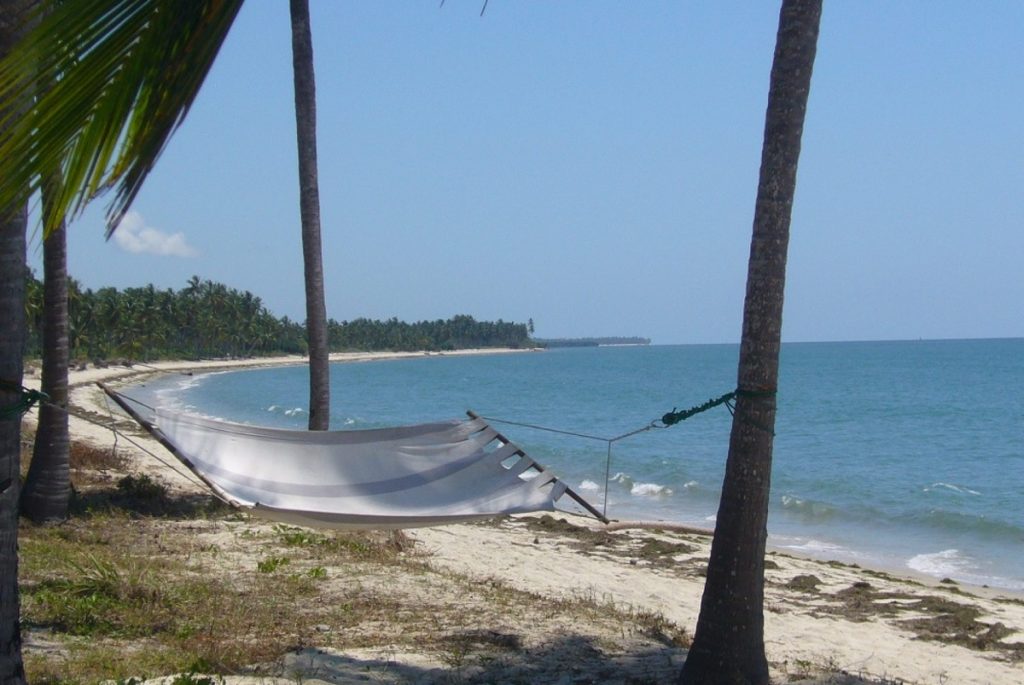 Sange is a large white sand bay between the Saadani National Park and Pangani. It's the best secret that Tanzania holds. There is a forest of mangroves and dolphins you can explore off the coast. This is a small sandbar surrounded by a large coral reef, which people can only access at low tide. This beach is not famous and needs to be reached with considerable effort, but it is one of the great Tanzania beaches. It is undoubtedly worth checking out the nearby Ushongo beach if you like the sound of a calm place surrounded by palm trees.
9. Fanjove Island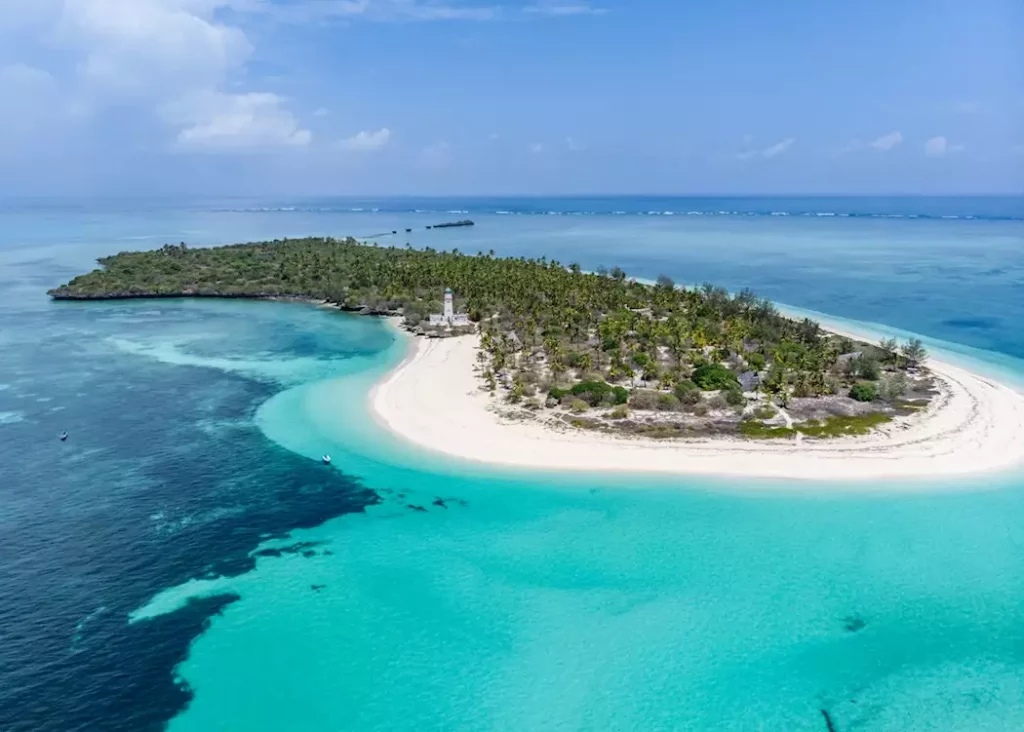 This island is one of the best Tanzania beaches you can have unlimited fun. The Fanjove island is the place to go to those looking for an authentic experience of Robinson Crusoe. This island has a vast lagoon and 11 kilometers coral reef, surrounded by lovely powder-white beaches and crystal clear Indian Oceans waters. From a private island, Fanjove has everything you might want. Six rustic beach bands with upstairs balconies promise a clear panorama of the surrounding ocean is the only accommodation. It is also an excellent value, so we highly recommend it to anyone who wants to experience an untouched island in the beautiful countryside.
10. Ushongo Beach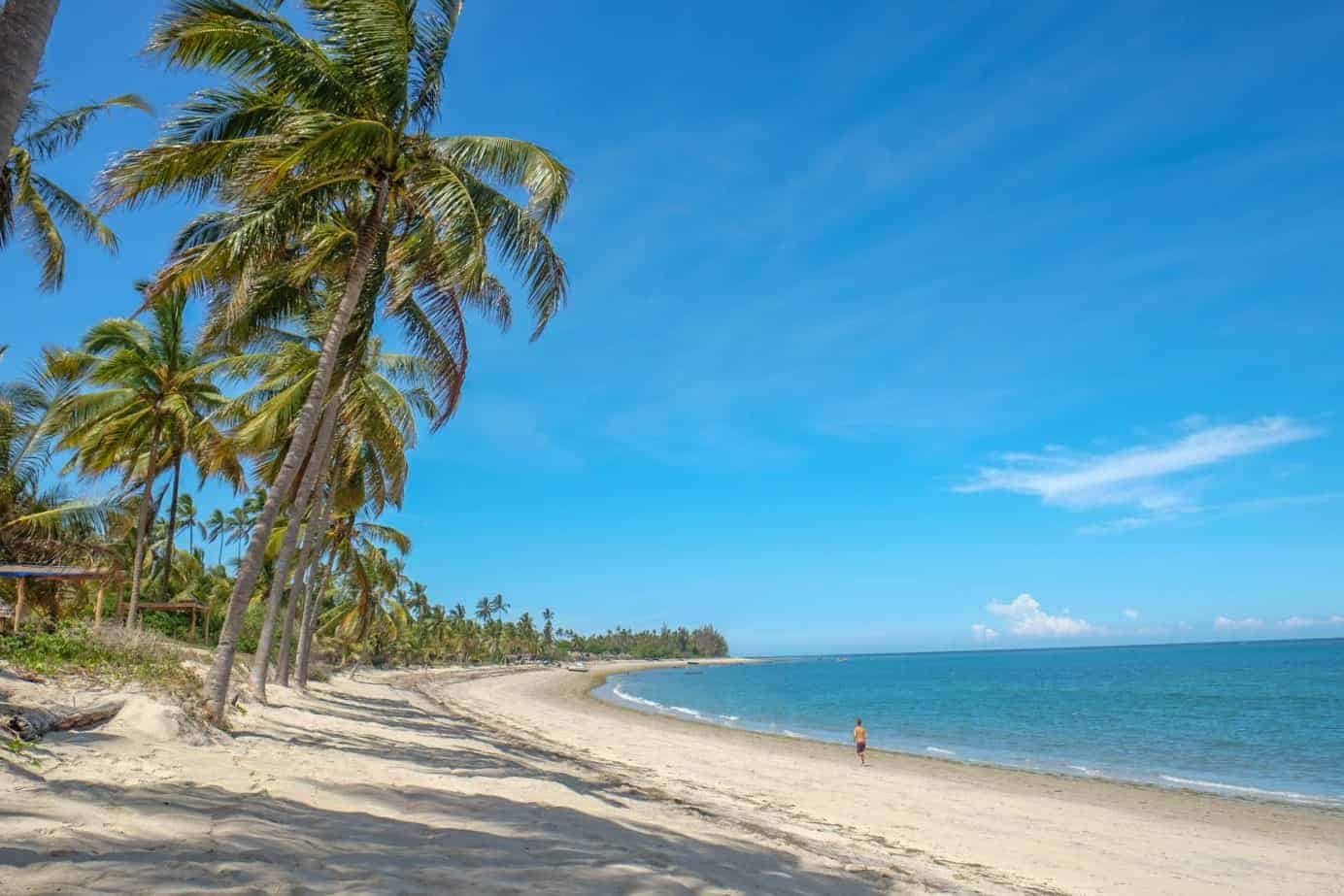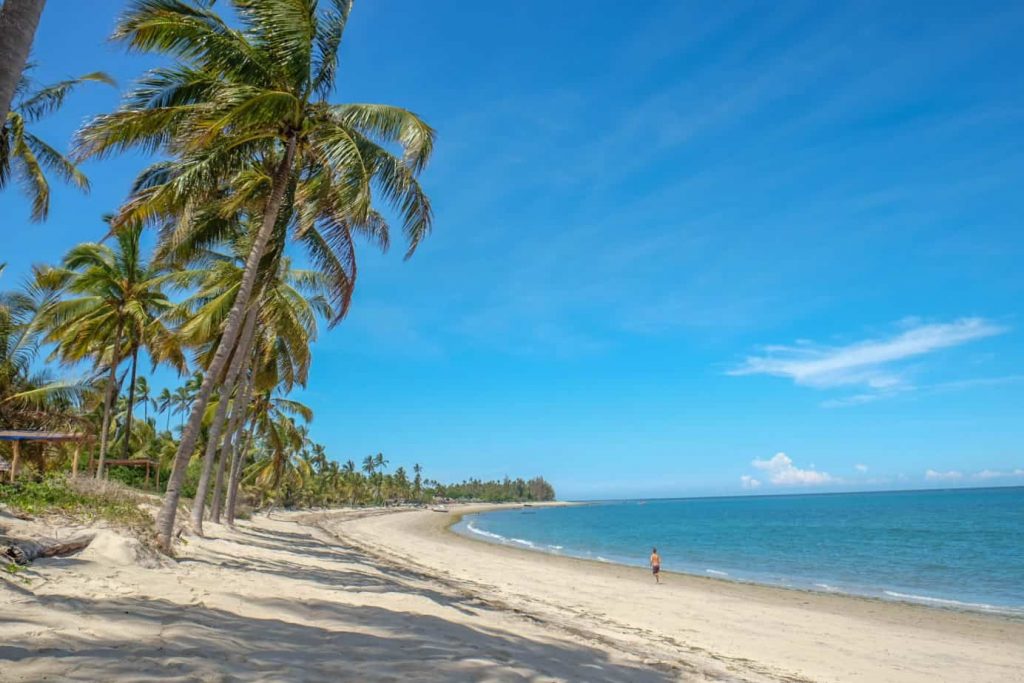 Ushongo Beach is the last on our list of top beaches in Tanzania. It is a traditional fishing village on Tanzania's northern coast, largely untouched by tourism. This beautiful sandbar is ideal for snorkeling and is only accessible at low tide, known for its healthy coral reef. This beautiful beach, which borders on sand and palm, has been evolved. On the beach, there are no "boys," so it's nearly deserted. The water is hot, and the Tides Lodge can swim in the middle of the bay.
We hope you will enjoy your trip to any of the above-mentioned beautiful beaches in Tanzania.