Thinking of going on a vacation? You got a leave from work and you need to visit some places for relaxation and you have no idea of where you can cool off? I know you must have visited one or two beaches before but there are some beaches across the world that would make you feel like you haven't been to any beach before. Visiting tropical beaches is like escaping the troubles of the world, the time slows down and the problems of the world fade away. They should be called a sanctuary. There are so many tropical beaches out there to suit every type of traveller. Scroll down to learn about some of the best tropical beaches that will blow your mind.
World Tropical Beaches to Enjoy Your Holiday
1. BLUE BEACH, PUERTO RICO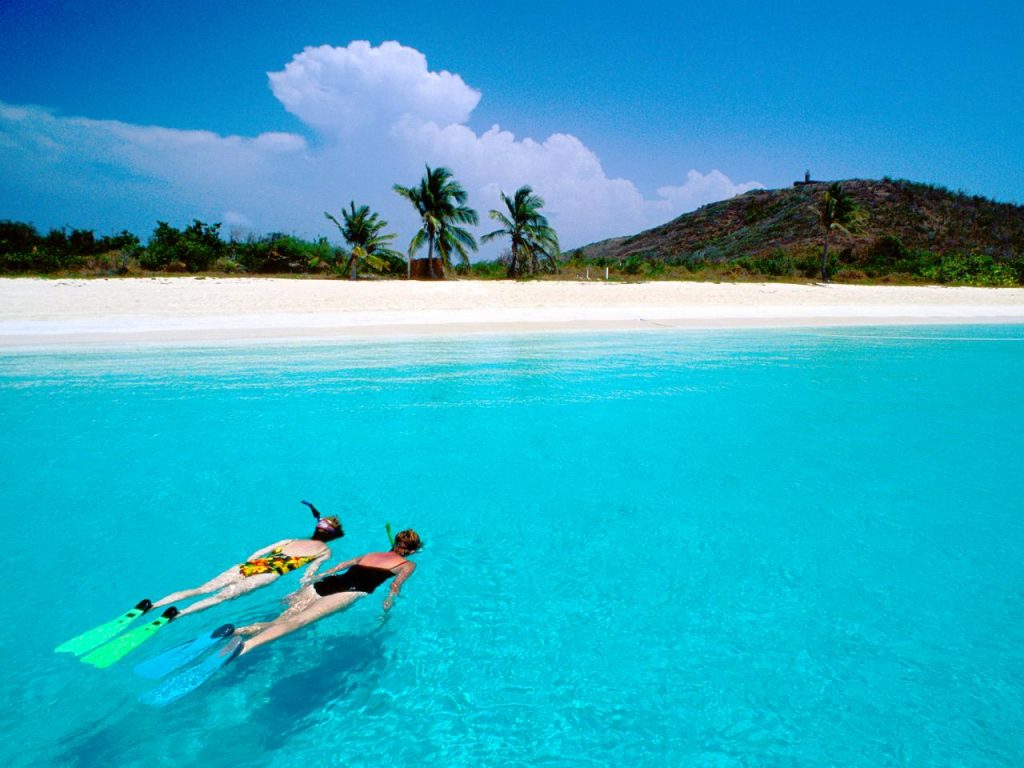 This beach is one of Caribbean's top beaches because of its thin stretch of white sand. It is also known as La Chiva Beach. It is not stressful getting there, it is just one of the adventures. Before the beach can be accessed, you have to park along a bumpy road in the middle of the Island's Western National Wildlife Refuge. This beach is the dream of most photographers because it is so colourful. If you really taking long walks on the beach, then you should not miss out on the La Chiva Beach.
2. HONOPU BEACH, KAUAI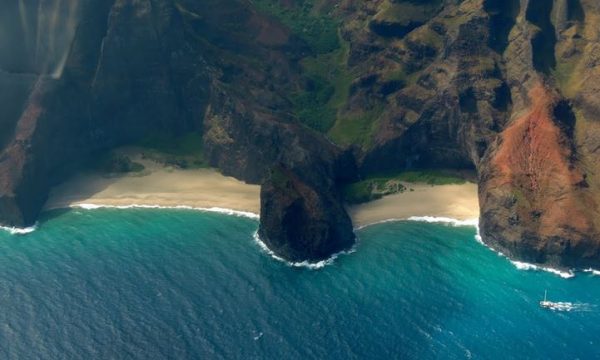 This is also known as the Cathedral Beach. There is a little trouble getting to the beach for people who haven't been there before because it is a distant beach. Visitors have to swim from an offshore boat to get there. The length of the beach is so amazing. The beach was named after it. The beach has other amazing features like its rugged stretch of sand. Another amazing characteristic of the beach is the scenic waterfall that falls from one of the rocks. The hotels where you can lodge beside the beach are  Hanalei Bay Resort, Castle at Princeville, Hanalei Colony Resort etc.
3. PALM BEACH, ARUBA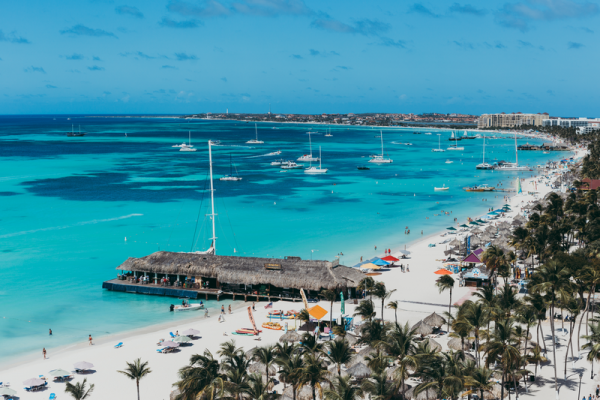 Palm Beach is located on the Northern coast of Aruba, a Dutch Caribbean Island. It is known for its palm trees, casino, water sports, beach bars and hotels. There is always an upbeat nightlife after sunset offered by the casinos and clubs just around the Palm Beach area. Before heading to the nightclub, you can enjoy lunch at Pelican Pier Bar. Do not forget to try your hand at snorkelling.
4. MATIRA BEACH, BORA BORA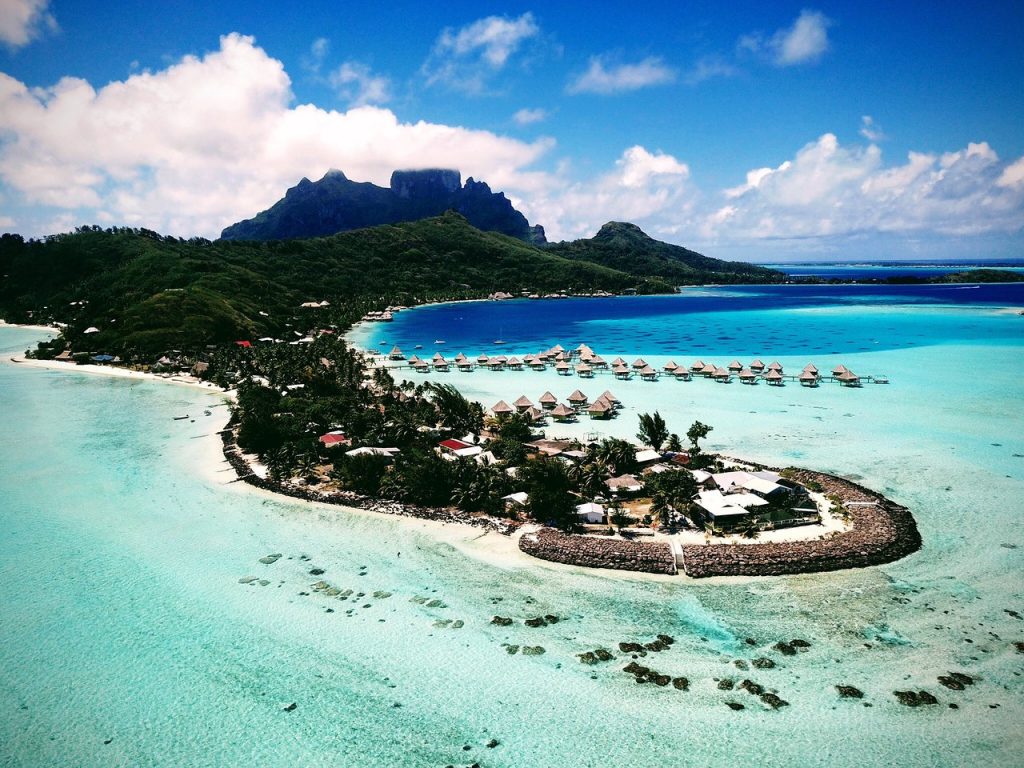 Matira Beach is located in French Polynesia, Bora Bora, Tahiti. It is the largest public beach in Bora Beach that is accessible to people. This is why it is always filled with visitors. Matira Beach is surrounded by resorts, shops, restaurants. You can easily spend the whole day there because you will be getting all you want right there. Below is the list of things you can do to catch fun at Matira beach.
⦁ Snorkelling straight off the beach.
⦁ Visit Chez Ben's for some simple food.
⦁ Tour providers
5. EL NIDO, PHILIPPINES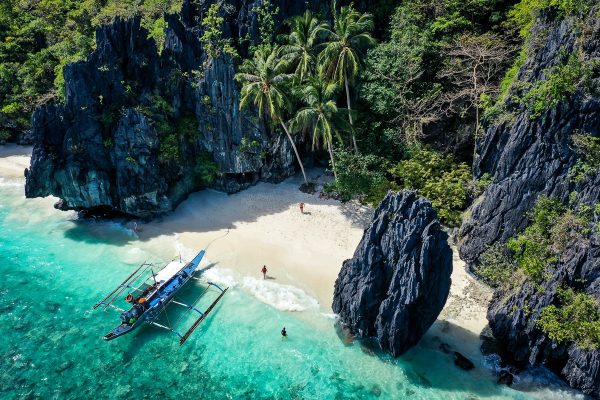 If you want to go for a holiday at a beach with many natural views, then El Nido is the right place, the wildlife to the exotic plants, water sports, beach activities and so many other fun things. El Nido almost has it all and that is why it is on the list of the world's best beaches. If you are the kind of traveller that doesn't like to be in the water all day, you can explore the exotic plants and wildlife that surround the beach. If wildlife and nature ain't your thing, you can get involved in the other beach activities like water sports etc.
6. AITUTAKI COOK ISLANDS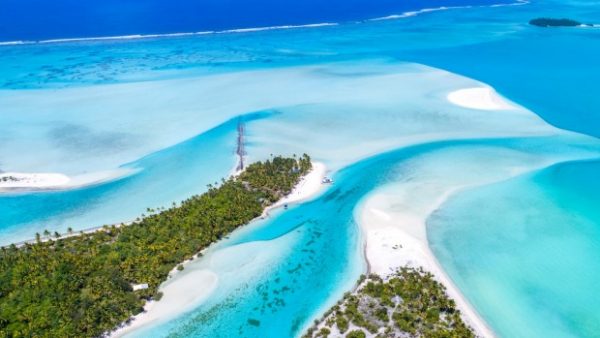 Aitutaki is one of the World tropical beaches. Aitutaki is so close to New Zealand. It is so beautiful for sightseeing, from the hilly peaks and the aqua blue lagoons, the sandy beaches that are surrounded by tall palm trees and some of the nicest islanders you will ever come across. Aitutaki is not the only beach at the Cook Islands but it is the most visited. There are about fifteen Islands at Cook Islands and Tapuaetai is one of the most popular spots because it is so small. Some of the things you should expect to enjoy at Aitutaki are swimming, snorkelling, fishing, kayaking. This beach has lots of activities that will stick in your memories for life, no matter what you came there for.
7. CLEARWATER BEACH, FLORIDA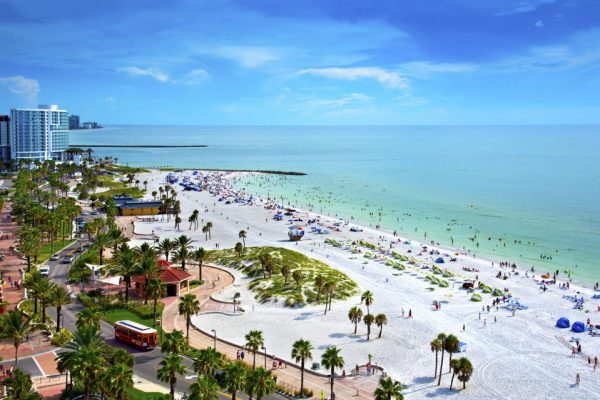 Clearwater beach is located in Florida, United States. This beach is one of the most famous World tropical beaches because it has a lot to offer travellers that are looking for amazing spots to relax and cool off. It is characterized by white sand beaches. The beach also has so many features for visitors to enjoy like parasailing, boat tours, fishing, dining and so on. Some of the interesting facts about Clearwater beach include:
⦁ The climate in Clearwater beach is categorized as humid subtropical.
⦁ A trolley service called the Clearwater Jolley Trolley has been in existence and service since 1982.
⦁ The most famous dolphin can be found at the Clearwater Marine Aquarium.
⦁ Seafood is popular in Clearwater beach.
8. MAUNDAYS BAY, ANGUILLA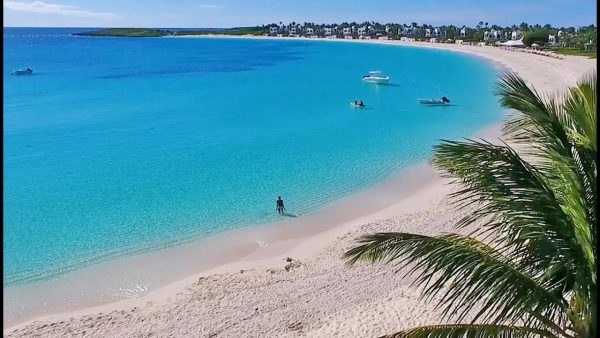 Anguilla is blessed with many wonderful and amazing beaches but Maundays Bay is arguably the best of all because of its beautiful sand, crystal-clear water, and the perfect half-moon arc. Though it is a public beach it is rarely crowded because most of its visitors are guests at the Belmond Cap Juluca. Maundays Bay is perfect for families with kids, as sightlines are not interrupted.
Before you go, here are some interesting topics you would love to checkout as well:
So, best of luck and happy beach tripping!