When camping or traveling in an area that is bound to receive higher levels of precipitation, you must carry along a good waterproof backpack. This is to ensure that the items you have in stock are not compromised or damaged unnecessarily when out. Your solution rests in the acquisition of a suitable waterproof backpack.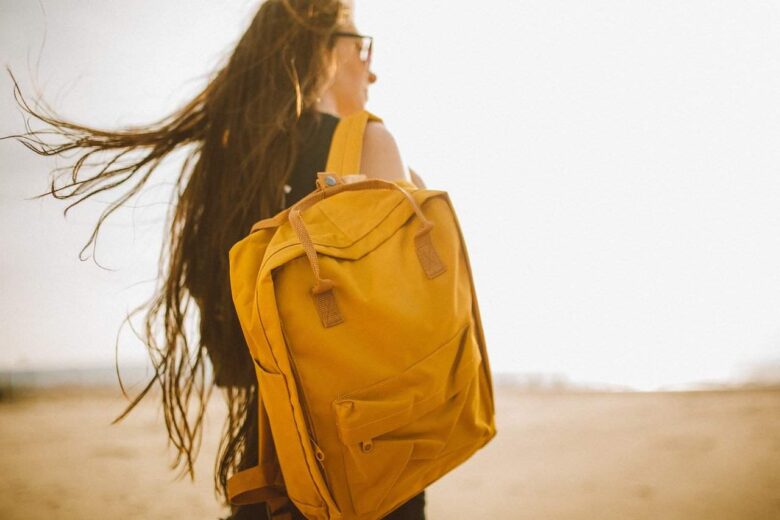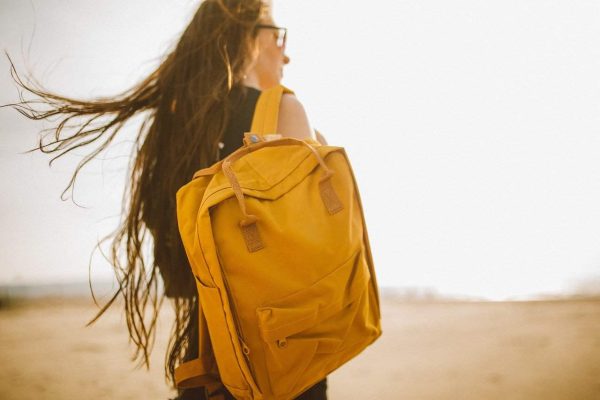 These are special kinds of waterproof backpacks that are designed to ward off the intrusion of water and moisture. They come in diverse shapes, sizes, as well as formations. We have too much of our time to identify and carefully select these good waterproof travel backpacks for you. Our list below contains some items which might not deliver reliable performances when you happen to tumble in a lake or skid into a puddle. Nonetheless, all of them guarantee your gears of utmost protection from light showers and heavier rains alike.
BEST WATERPROOF BACKPACKS FOR TRAVEL
Patagonia Stormfront Pack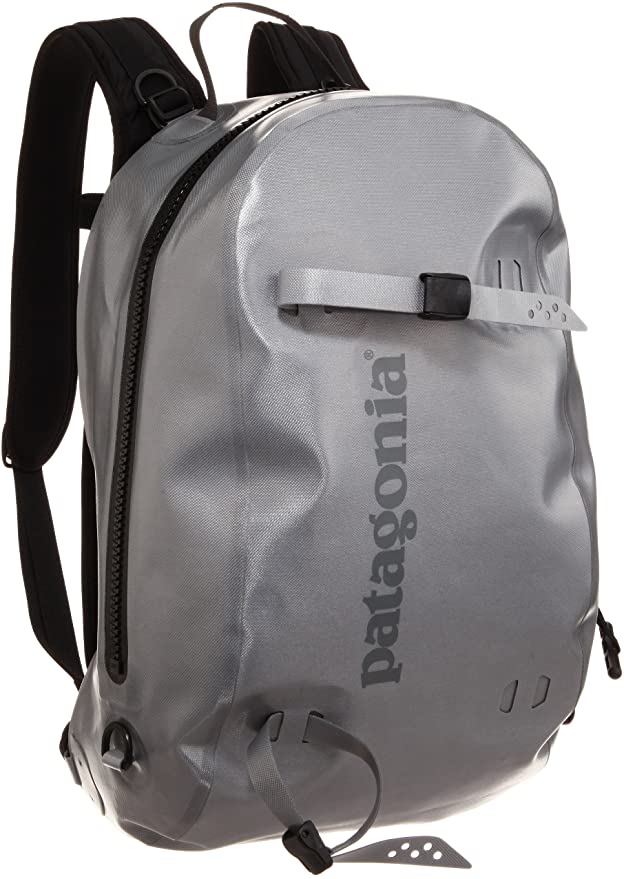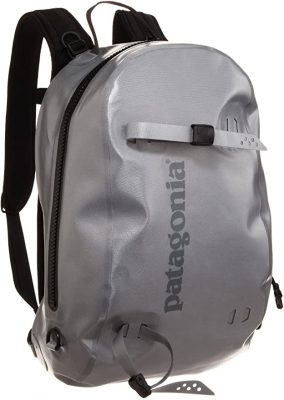 If your search for a waterproof backpack is dictated by the need to maintain your stuff completely dry even if you happen to get fully submerged in water, this is the one we ask that you choose. It boasts of the sturdy nylon material which is entirely coated with thermoplastic polyurethane material.
These two materials are water-repellent and are hence more likely to shield your items securely. Its capacity is the impressive 30 liters, not to mention being comfortable to wear, on the whole. Given its impressive dimensions, padded straps, and a removable waist belt, this backpack is acceptable onboard most airlines. You will also find it useful for storing delicate items like car keys.
BUY NOW
Miggo Agua Versa Backpack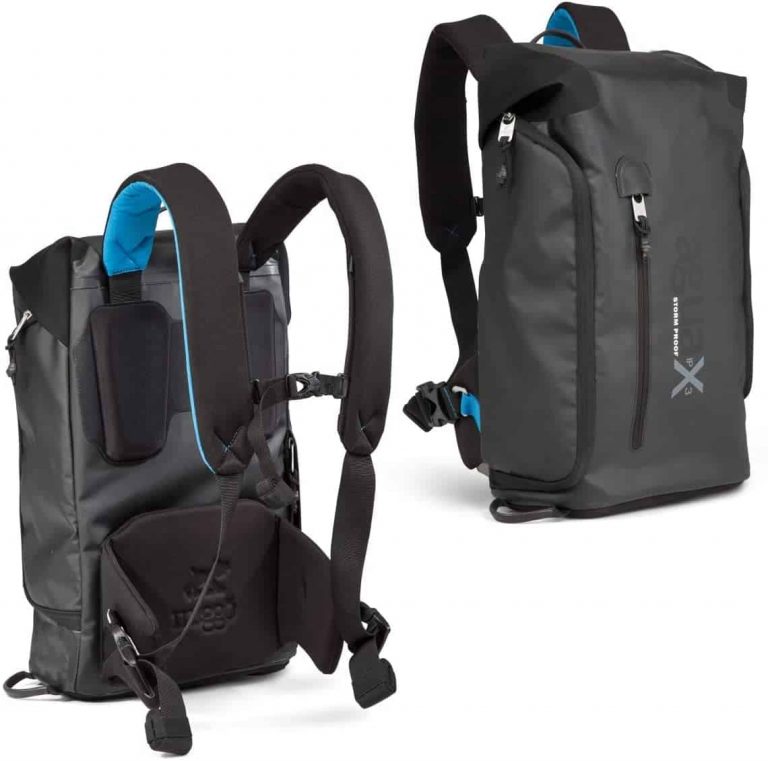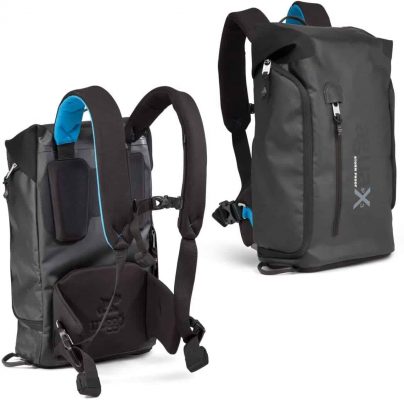 Have some fragile electronics and other items? Well, this is the backpack to choose to use. That is because it is designed to offer adequate protection to cameras, lenses, and other delicate pieces of electronics. At the same time, it shields the same from the adverse effects of heavy rains.
The bag gives you the conveniences to carry it in three main ways. These are the normal position, slinging it on your shoulder, or holding the straps and placing the bag in the X position. Its interior is padded and contains numerous pockets. Together, these hold all of your electronics smoothly and comfortably. Given its sturdy Lycra, the bag measures up to many weather conditions.
BUY NOW
FE Active Cloudbreak Backpack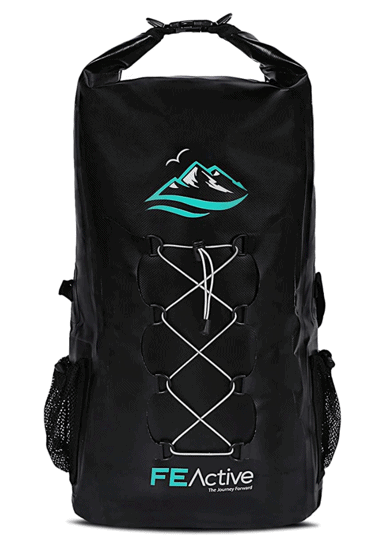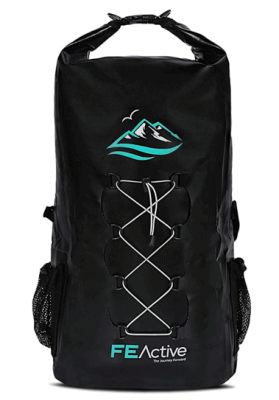 Care a lot for your environment? You have the pleasure of choosing to work with the one that is made of eco-friendly materials like this one. It features the PVC tarpaulin as a distinctive feature. Thanks to this arrangement, the bag yields unparalleled waterproof protection to your devices from harsh rains and weather.
You will find it great for all outdoor activities like kayaking, camping, and hiking. Attached to this bag are two netted side pockets. These let you stash in some water bottles. Then, the exterior has some cords which hold your jackets. What's more? The jacket holds laptops, numerous clothing items, and other paraphernalia.
BUY NOW
RAINS Waterproof Drawstring Backpack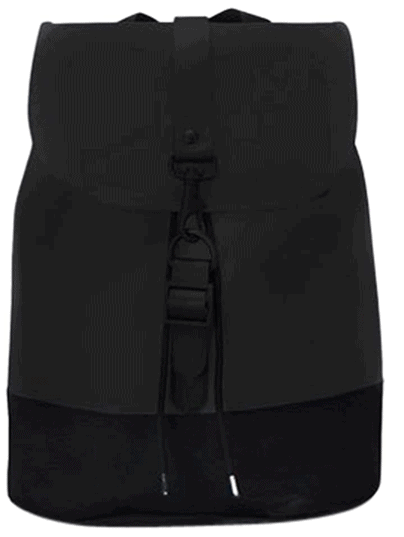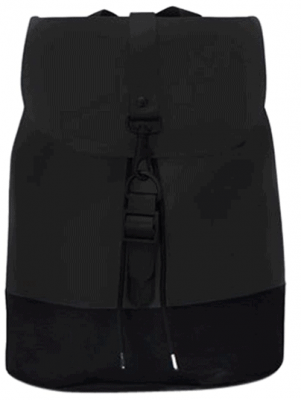 Do you travel around a lot on your feet? Well, you want a backpack that is light enough and highly unlikely to weigh you down. Of the ones under our review, it is this that is more likely to fit that bill. Other than that, the backpack also holds all of your essentials safely and conveniently.
It has plenty of spaces for your books, tablets, water bottles, phone, and wallet. Throughout the entire breadth and length of this backpack are the waterproof polyurethane and polyester fabric makeups. With this backpack, be prepared to enjoy some unprecedented support and storage as you move around.
BUY NOW
Earth Pak Summit Dry Bag Backpack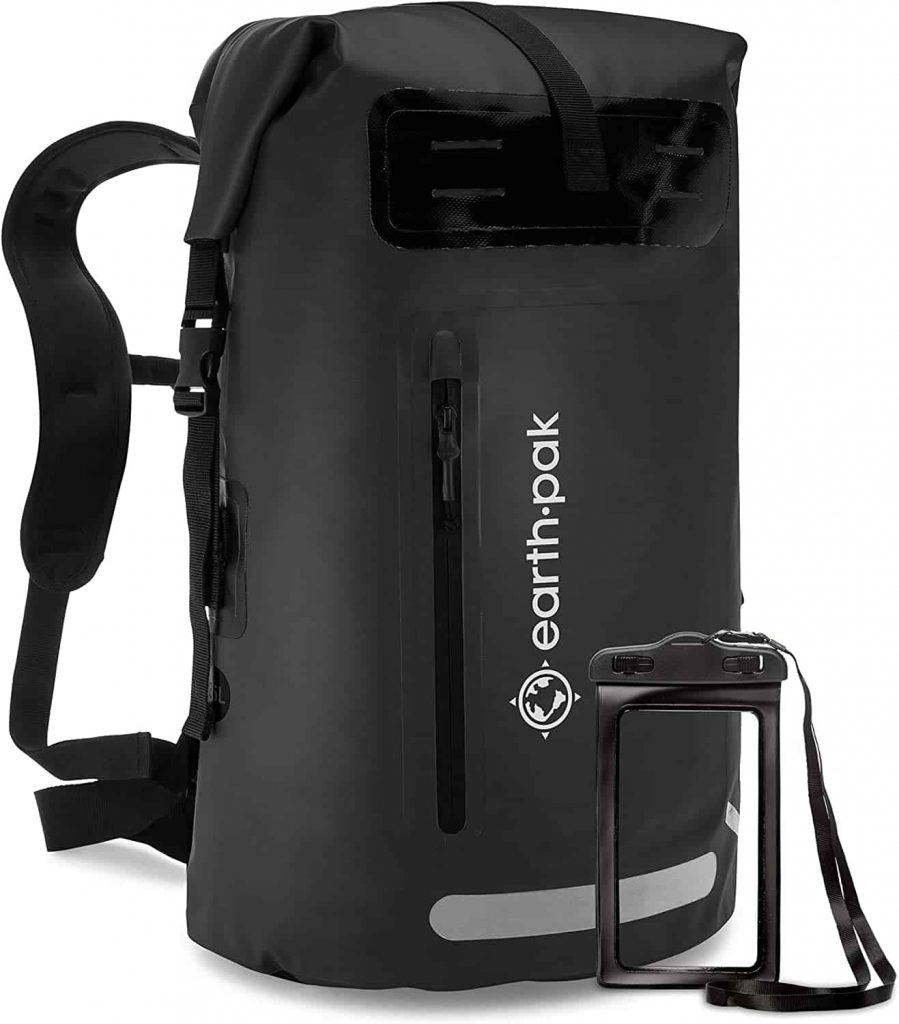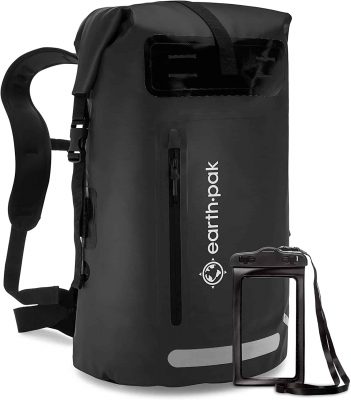 In case you are looking for a good waterproof backpack that you can use for a prolonged duration of time without the need for constant repairs and maintenance, this is the one to set your eyes on. It is heavy-duty, has the awesome 35 liters capacity, and hardly sustains any damages even when used in a rough environment.
More to these, the backpack is sufficiently roomy as to accommodate all gears you might have in mind conveniently. Notwithstanding its roomy interior, the backpack is still small and compact enough to use as a carry-on in an aircraft. Its sturdy PVC material provides adequate protection to all of your interior gears. It does a good job of shielding your cameras and smartphones from damages.
BUY NOW
Chrome Urban Ex Daypack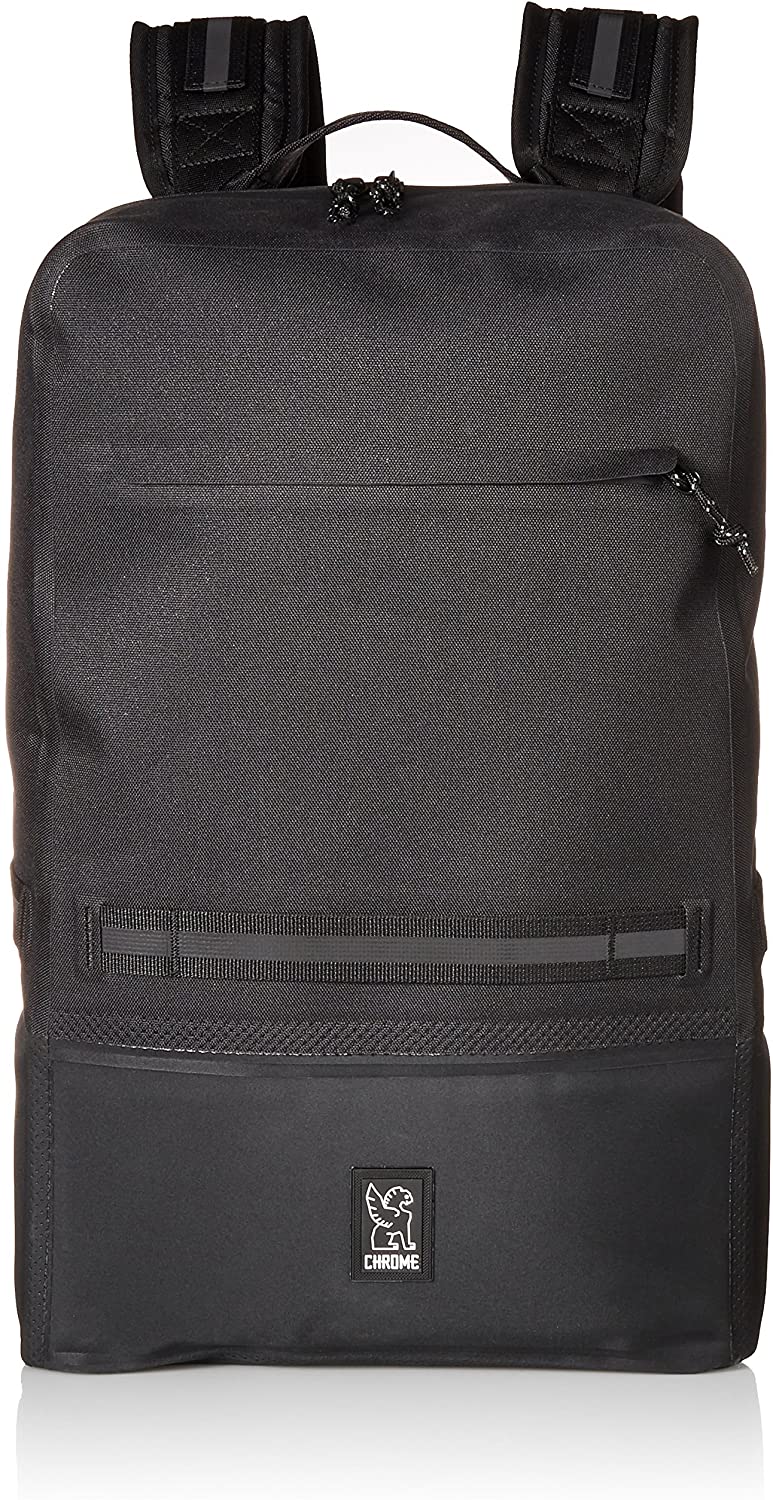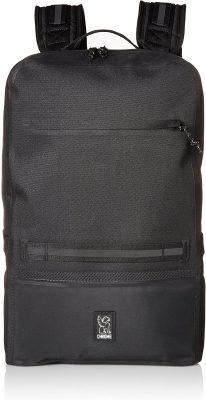 Different waterproof backpacks are designed for different cadres of persons. If you are a regular commuter or business executive, this is the one we ask that you choose. That is because it is strong enough to withstand the huge impacts and other agents of tears that do arise with frequent and regular use.
By all accounts, this backpack keeps all of your gears properly organized and safe at all times of use. That is because it comprises some 13-inch padded sleeves complete with some exterior pockets and waterproof interiors. Also present in the bag are some numerous padding which adds to your comfort.
BUY NOW
Matador Freerain24 Backpack
This is also one of the best waterproof backpacks. For your own convenience, while ferrying your items, you want a backpack that is large enough to handle and store all your gears at once. Well, you have no better companion than this if that is the need you desire to meet. Why? The backpack has a truly spacious interior yet lighter than most competitors.
Even when it is fully loaded, this backpack is unlikely to weigh you down. Given its lighter stature, the backpack lets you tackle mountainous terrains with absolute ease. Then it comes along with some two meshed side pockets which hold your water bottles. Lastly comes the water-resistant front exterior pockets. These allow for easy access to your gears if and when you need them.
BUY NOW
Kopack Waterproof Laptop Backpack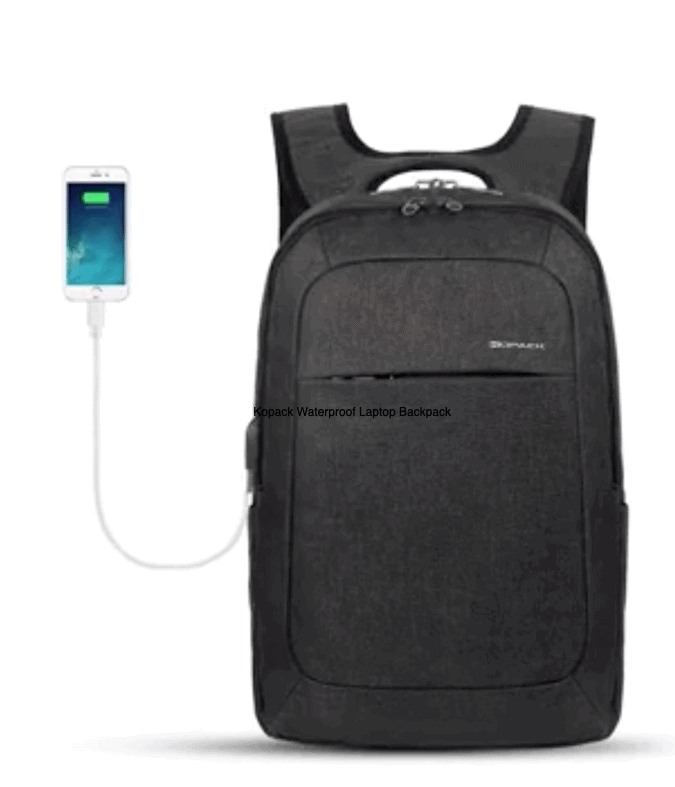 Though designated 'waterproof,' Kopack Waterproof Backpack is in fact water-resistant. This means that it repels water to ward off any possible intrusion of water to your interior gears. Why is this the case? Well, the backpack boasts of water-repellent nylon makeup. It is this that is responsible for the performance. The bag also has the ability to hold pens, sunglasses, and keys.
In its interior is the laptop sleeve, which has the capacity to hold computers that measure 17.3 inches. This sleeve is located in a different compartment that slips against your bank to make it almost impossible for anyone to break into it. Also present in the bag is an anti-theft compartment. You will find this at the bottom rear end of the bag. It is here that you will stash in your passports or phones.
BUY NOW
Skog A Kust BackPack

Just in case the area you plan to use the backpack experiences only mild showers, this is the one we suggest that you use. The bag is waterproof though lacks the capacity to handle submersions like its heavy-duty counterparts. This limitation notwithstanding, the backpack is still a worthwhile purchase.
It is available in two capacity options. These are the 25 and 35-liter alternatives. Then, it has the ability to close in two main ways. With these options, you have the freedom to select the one which in your opinion may offer much value to you. Some clips exist on the bag to allow for ease of attachment and transportation.
BUY NOW
Gruv Gear Club Bag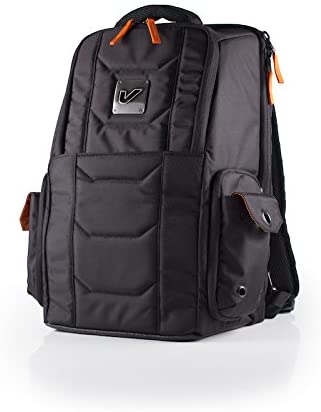 Do you travel regularly? Well, this is a good bag for your choice. It is designed with the needs of a traveler who wants to say organized throughout the journey in mind. A number of features combine to make this a reality. These are the removable shelves and drawers, overhead clip, and hidden passport pocket.
Together, these features let you organize the storage compartment, safeguard your gears with ease, handle your glasses and headphones, tackle your small items peacefully, and haul your gears for long without feeling fatigued. Given its paltry 6-pound weight, this backpack will not impose too much drag on you.
BUY NOW
Geckobrands Waterproof 30L Backpack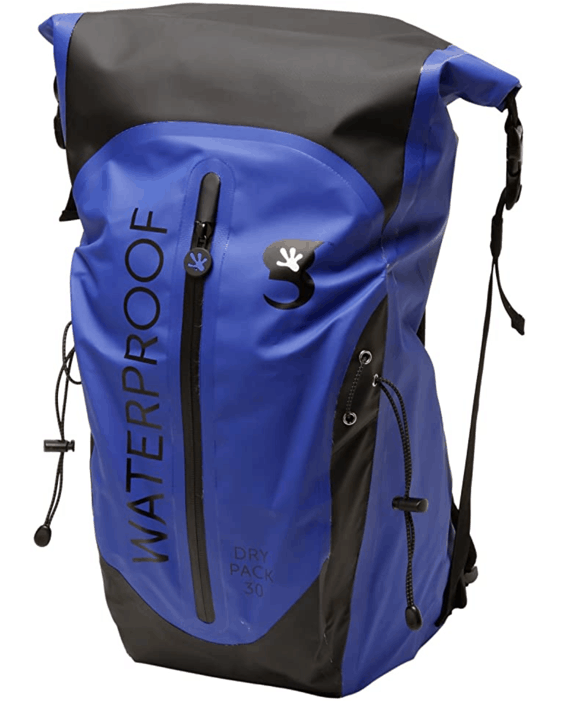 As long as you do not intend to tackle a complete submersion, this is a backpack you want to prioritize. It is completely waterproof, has a decent 30-liter carrying capacity, and maintains your interior contents fully dry regardless of the prevailing circumstances of use. It is for all practical purposes a great outdoor companion.
Its chest is pretty sturdy while it also possesses some waist straps. The straps let you balance with perfect ease and in so doing, ward off any possibilities of falling off due to loss of balance. Some four carabiner spots exist on the shoulder straps to allow for easy attachment to the bungee cords and other external sporting equipment.
BUY NOW
Well, we have done our part to showcase to you the 11 best waterproof travel backpacks that are in vogue today? It is not really sensible to read through our explanations yet take no concrete actions to their effect. That is why we now challenge you to move with has and apply the information.
This can only mean narrowing down to at least one backpack and acquiring it. Simply follow the product link we have placed underneath each explanation to get started. We wish you all the best in your subsequent search!