It's a known fact that AdSense is one of the most used advertising networks in the world because it is owned by the internet giant Google. Also, Google AdSense is loved by many publishers because they display high CPC ads compared to any other network including contextual ads by Bing. Behind all these good news, there is a bad news for publishers i.e. Google AdSense is very strict and people who fail to abide by the rules will be warned or removed from further participation. Of several rules, ad per page limit rule is one of the main terms that had led many accounts to get disabled. This article will help you to get educated about the number of ads per page and ad placement policy.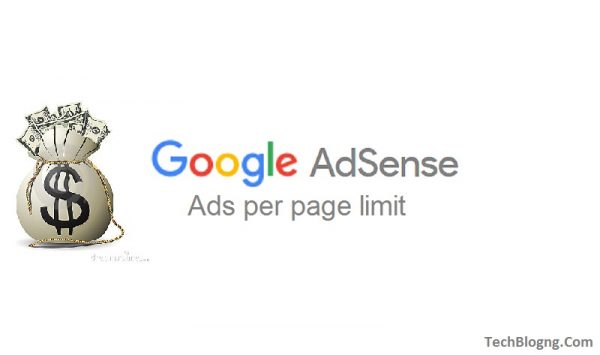 Adsense ads limit per page:
For several years the Adsense ads per page have been limited to 6 ad units which include 3 Adsense text units and 3 Adsense contextual units. Also, a large ad unit should not be used more than once on a page.  Publishers sites which fail to comply with this policy was warned and disabled based on the severity. Usually, the new publishers get into this problem because they will be in a happy mode after getting AdSense approval. So, a publisher must read the full terms and conditions before proceeding to implement ads on their site.
Recently, AdSense had changed their policy by removing ad limit per page. So now the publishers are free to place as many ads on a page provider there should be enough content on that page. Also, publishers can now place more than one large unit on their site.
Adsense removed the ads per page policy and replaced it with Valuable inventory policy on the Adsense policy page as shown below.
What does valuable inventory policy say?



The main policy that Adsense says on Valuable inventory is now the publishers can add any number of ads based on the amount of content present on a page. It can be more than three units or sometimes less than three ad units if content is too low. Previously, one can add up to six ad units even if the article is one or two lines. But, now it would be considered as a policy violation. So, make sure content ad ratio is equal.
The second point they are willing to say is the publishers should not add less value content to their site. So, content added just to fill their site without adding any value to the users is considered as the policy violation. The policy was available on their terms before but now this point stressed more.
Publishers are not allowed to auto generate content, copy content, mirroring, rewriting same content. Publishers must abide by the rules of Google Webmaster quality guidelines to participate in Google Adsense program without any problem.
Do's and Don't:
Do's:
Place as many ads you wish on a page as long as there is enough content on the page.
Test ads by implementing on various place of the site to find the best placement that receives high CTR.
Though more than 1 large ad unit is allowed to be placed on a page, avoid placing more than 1 large unit on a page which can ruin the user experience.
Limit the ad units to less than 3 if the content of a page is very less. To avoid editing each page, try to write big articles.
Review the non-article pages to find thin content. Try to fix it ASAP.
Don't:
Since now the ads per page has been removed, do not fill your website with ads. According to a survey, pages with a limited number of ads placed properly can generate more clicks compared to the page full of ads.
Do not place large ad unit above the fold on the pages designed for mobile phone.
Effective Ad Placements:
Place ads above and below the post to get higher CTR. Try to put bigger ad units like 300 x 250, 336 x 280, 160 x 600 and  728 x 90. Most of the advertisers prefer ad units of this size.